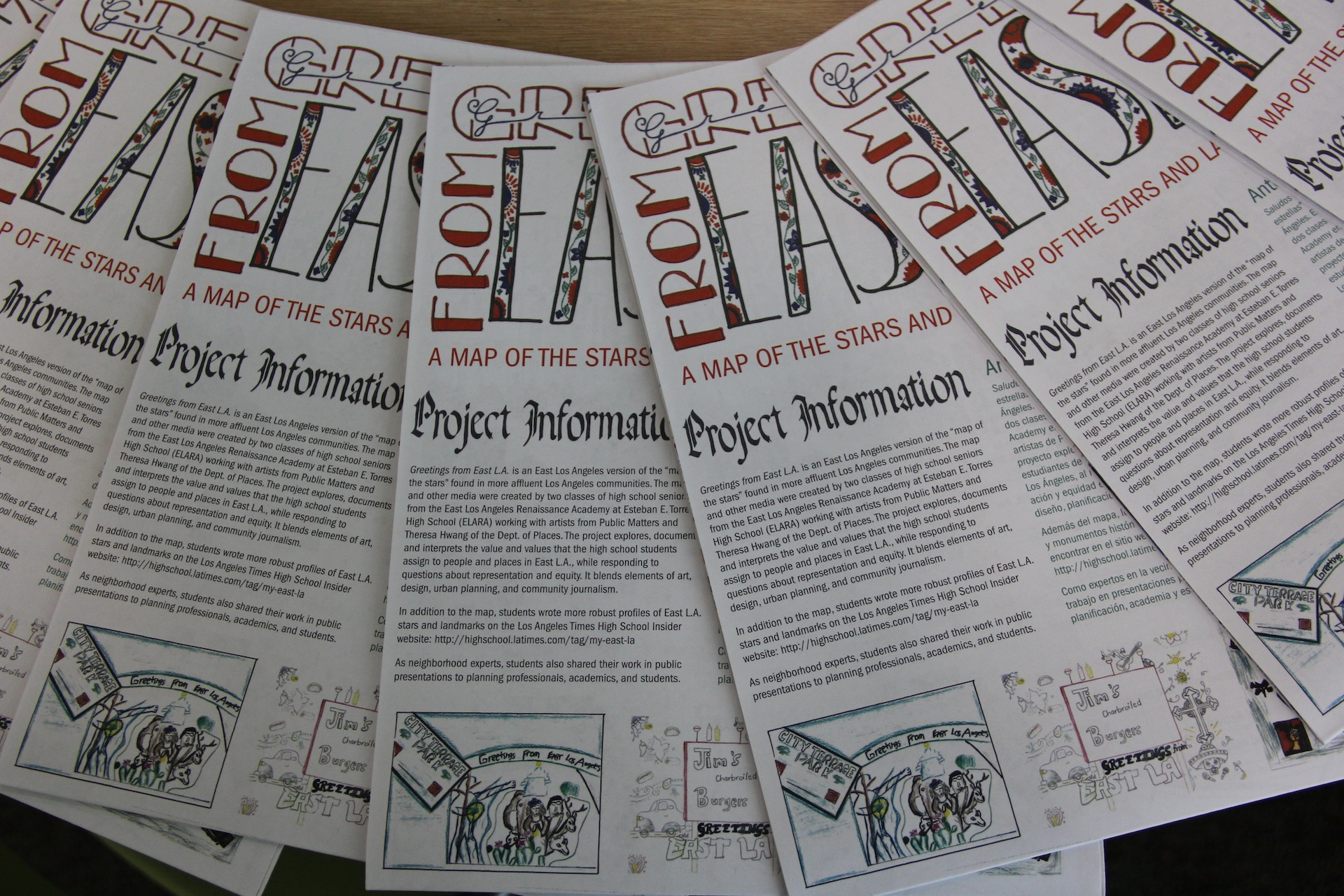 13 Nov

The Ripple Effect

By: Andy Alvarez


—

Each month, Fellows dig into readings, exercises, conversations, and reflections on a theme. October's theme = The role of arts in shaping communities

Thinking about the way that my community, East L.A., is now as opposed to how it was ten years ago, is a tough task. Small changes seem to have been happening constantly over time but they've now surely reached the point where they've changed the community dynamic on a different level. I find it hard to understand that people who are not from here are making many of those changes. In the past, I used to perceive outsider-led change as only being negative, but being an Urban Futures Lab Fellow has opened my eyes to the idea that "outsiders" can also have a positive impact.

So how did this change in understanding happen? As we sat at the Urban Futures Lab Supper Club, one of our guests, Tamara Alvarado, began telling a story of a time when she saw a community need and how she fought for it until it was complete. Tamara shared the story of how the local community in San Jose needed to fix their streetlights. She noticed that nothing had been done about it for quite some time from the people in positions at the city level, and instead began talking to people who could influence change fairly quickly. She also mentioned how, at first, the response she got from them was that it would take a couple of months for the light issue to be acknowledged.

Tamara was the new Executive Director of the School of Arts and Culture at the nearby Mexican Heritage Plaza. The street lighting issue wasn't "her" issue, and she wasn't "from" that community but she felt a connection and thought that she could help. A less committed person would have been content with the answer that she was given by the city and I admire her perseverance since she would not accept that answer and kept on pushing the issue. As a result, the city agreed to take care of the problem as soon as possible and the streets were lit up within a couple of weeks, rather than a couple of months. But you hear more stories of outsiders making negative change – small positive changes like this can often go unnoticed.

My family and I were victims of that negative type of change. When I was younger, I hardly noticed the steps that were needed in order for change to be made in a community. I was not aware of the process that goes into potentially changing the dynamic of a structure or business that has already been established in a particular location. I used to roam around the streets of East L.A. and see new buildings being erected from the ground up by people who were not locals, but thought nothing of it.

I used to live in a two-story, four bedroom, three bathroom house in East L.A. It used to be the only two-story house in the surrounding neighborhood at the time and it probably housed the smallest family since it was only my father, my mother, and myself. My parents used to rent that particular home because they believed that as a kid, I would enjoy having extra space to run around and play.

We had already known the homeowners for quite some time and had always talked about the possibility of buying the home, owner-to-owner, once they decided to part ways. When the homeowners passed away, the property was left to their children who knew about the verbal agreement with my parents but decided to list the house on the market. I remember so vividly how investors from West Hollywood arrived to see the property and in a matter of minutes offered $100,000 more than the listed price of the house. Although an existing relationship with the homeowners had been built, that did not hold up as well as the economic gain to be made by selling it to the investors. They were very sorry about the situation but we ended up having to pack our bags and moving to a different home. What was once a home for my family and I became an investment project for someone else.

Prior to the Urban Futures Lab Supper Club, we saw the film Right To Wynwood, which explored the ongoing gentrification of the historic Wynwood neighborhood in Miami, Florida. Seeing local homes being demolished in order for cafes and art galleries to sprout up from the ground made me resonate with the displaced residents. It made me feel in connection with an east coast neighbor that I will probably never meet. In this example, and unlike the role Tamara played, art and arts workers were used to recondition Wynwood without community input.

I have learned that communities are ever changing and will forever be evolving. Change is not necessarily negative, but it can have a ripple effect that can influence local lives in multiple aspects. Analyzing this month's theme in the Urban Futures Lab allowed me to self-reflect and feel thankful for being able to work on Greetings from East L.A. with Public Matters.

Greetings from East L.A. is directed by another one of our Supper Club guests, Theresa Hwang, and she's an example of a community-engaged architect who values input from members before making life altering decisions for other people. I enjoy sharing the history of the neighborhood with others that are not locals. I am fortunate enough to have had the opportunity to engage with local business owners and neighbors at the same time as documenting and being able to share those stories with others. I feel honored to be part of a team that takes pride in keeping a place like East L.A. on the map, and the Lab has allowed me to believe that there are more Theresas and Tamaras out there than there are non-community oriented developers.

All in all, Tamara ignited a flame inside me. She made me want to go out and talk to my community and find out what their needs are and why they aren't being met. East L.A. is great, but is there something that can make it better? I guess you'll have to stay tuned, and find out.

Andy Alvarez // Blog Post #1 // Learn more about Urban Futures Lab.