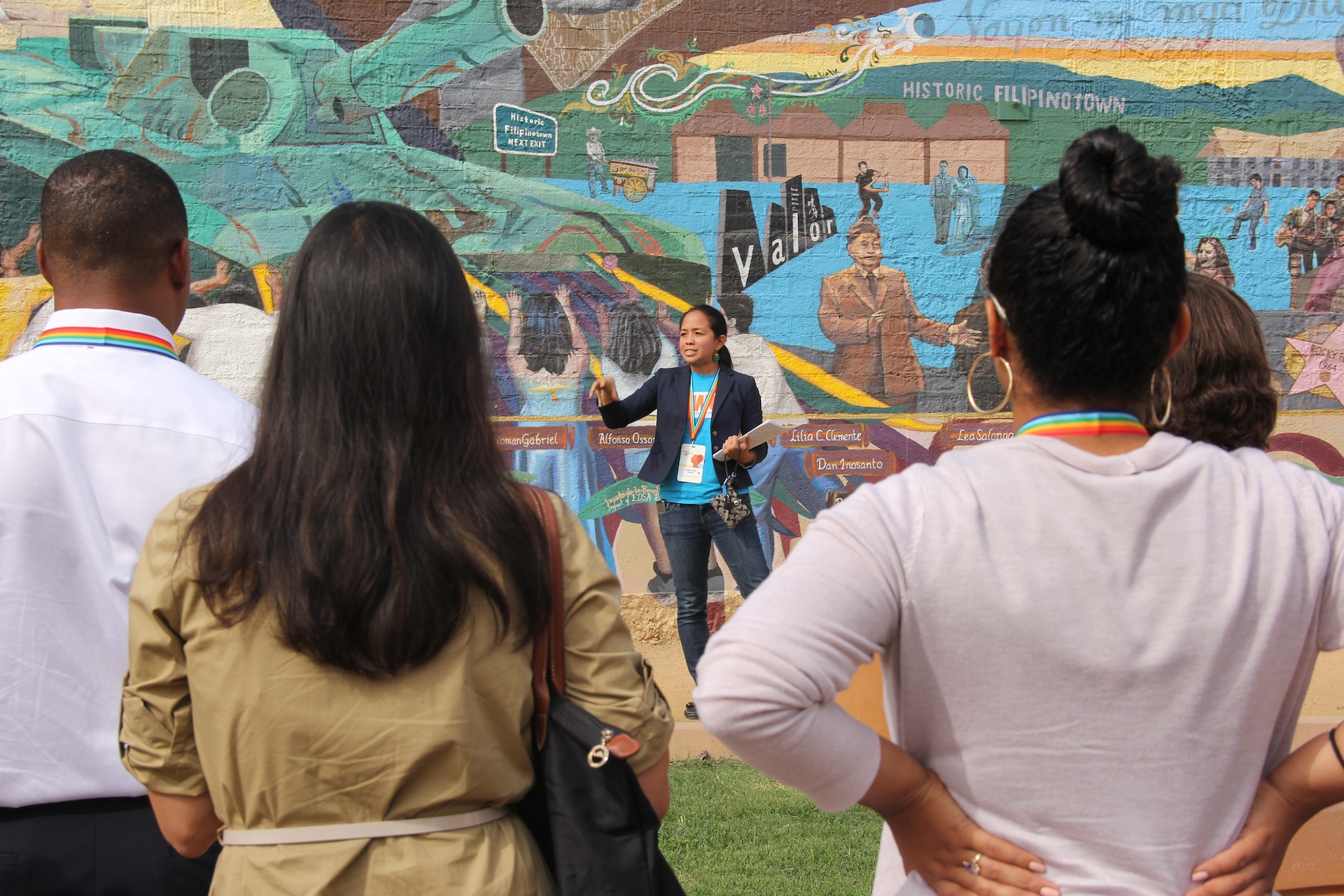 13 Jan

Reflections from Equity Summit 2015

Writing by Public Matters Fellow Xochilt Sanchez

Equity Summit hosted by PolicyLink took place Wednesday Oct.28 and Thursday Oct.29 in downtown Los Angeles. The Westin Bonaventure was flooded with hundreds of representatives of progressive organizations and agencies from across the country. The conference began with the opening plenary hosted by Angela Blackwell who read PolicyLink's Equity Manifesto to ignite the audience. The conference itself was composed of various panels, caucuses and forums that addressed structural inequity, the myriad of ways in which it manifests itself locally, statewide and nationally as well as the programs being implemented to combat these injustices.

As a young adult Latina from Los Angeles, I experience a brunt of systematic injustices. But, as a daughter of Salvadoran immigrants who work in community activism, utilizing art (specifically music and performance) to denounce systemic violence against the brown and the poor, I understand the power of art-making both in artistic process and in presentation of work. As a graduate of Sarah Lawrence College, I have investigated through both academic and creative lenses structural inequity, its impact on my life and how it has played a role in shaping my identity. I know how to recognize the manifestation of structural inequity in my daily life and denounce it through my art and through my work.  As an Urban Futures Lab Fellow, I work in implementing community-oriented programs that place emphasis on community development by cultivating future leaders and fostering creative wealth. I am employed in work that is multi-faceted, engaging and social justice oriented. I came in to the conference with an open mind and critical lens and excited by the opportunity to participate (my first conference). Yet, I can honestly state that I was a bit intimidated by the years of experience that others had over me. I came in with the mentality of an observer and student—I was there to learn.

It was a gathering of individuals striving to make transformational change in their respective communities and consequently nationwide—especially in light of the national outcry against the hateful and blatantly racist acts of violence against black and brown bodies throughout the country. It was a gathering of those who call out the oppressive structures of power headed by cis-gender white males that have historically dehumanized black, brown, female, immigrant, trans and non-gender binary bodies. It was a gathering of those enraged by witnessing/living the injustices of their underserved/overworked communities being killed off by corporations who squander them. It is a gathering of those being killed off by and the violence in their communities consequential of historical displacement and oppression. It was a gathering of those outraged by a leading presidential candidate whose political platform is based on xenophobic rhetoric. It was a gathering of those exhausted of having to bury their loved ones…loved ones who have been harassed, profiled and murdered by members of the black and blue who have trashed their oath to protect and serve in order to assert their power over already over-policed bodies. It was a gathering of those who believe that housing is a right—housing is a right! It was a gathering of those who seek educational reform for the generations of that come after them. It was gathering of those who call for collective action against the powers that be to implement policy changes based on community needs as opposed to further exploitation of the poor, black, brown, trans and disenfranchised.

The summit ended by calling the attendees to collective action and acknowledging that collective action is required to achieve equity. It was marked that this must be an inclusive movement—a movement of movements, that is multicultural and intergenerational. Without a wholly united front, equity is unachievable. Within this front, there is a role for all individuals, their strengths and levels of commitment but it calls for urgency. The urgency to educate and activate those ignorant to their circumstances or comfortable in their passivity and to ignite them to continue the community-based work necessary to achieve societal change and structural equity!