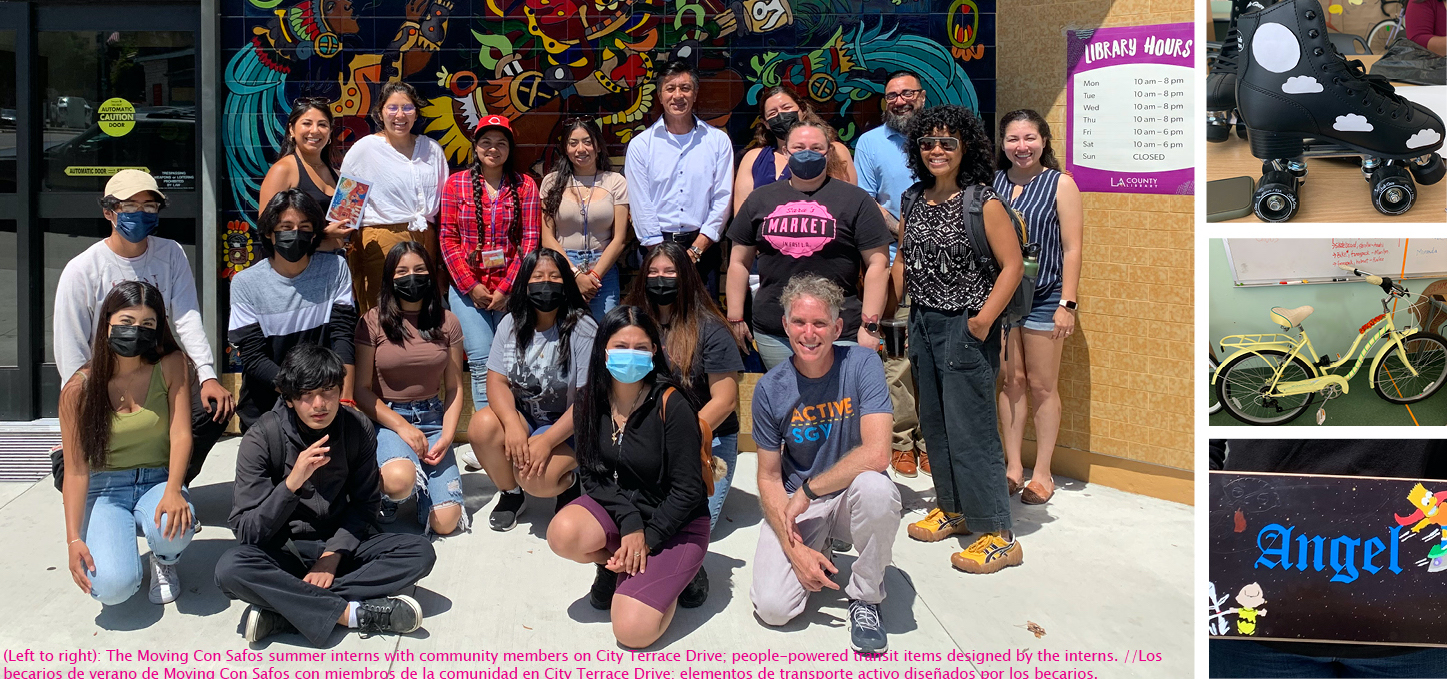 21 Jul

City Terrace Art Walk
Saturday, July 30 2022

2:00pm to 8:00pm
//

City Terrace Drive, Los Angeles, CA 90063
FREE! no registration required
Come join Public Matters at the City Terrace Art Walk as we celebrate City Terrace art, culture, food, and community!
The Art Walk is also an opportunity to reimagine City Terrace Drive as a complete street that centers safety and walking, biking, and rolling. You'll have a chance to engage with the following, presented by Public Matters:
A Complete Streets Demo to help you imagine and experience what a Complete Street might be like – high-visibility crosswalks, bike lanes, colorful curb extensions, and more. You'll have a chance to share your feedback and ideas.
A Presentation of City Terrace Drive Complete Streets Proposals by students from East Los Angeles Renaissance Academy at Esteban E. Torres High School. Check out proposals for safer streets!
An Exhibit of Custom, DIY People-Powered Transit, fabulous and fantastical transformations of bikes, skateboards, helmets, walkers, wheelchairs, that celebrate how East LA gets around in style.
Custom, DIY Workshops where you too can decorate and transform your own people-powered transit.
Connect with LA County Public Works staff, who are eager to get your feedback and input on the City Terrace Drive Complete Streets Plan currently under development.
For more information click here. Free, no registration required!
Follow @ctartwalk on Instagram for updates!
>> EN ESPAÑOL <<
Sábado, 30 de julio

2:00pm to 8:00pm
//

City Terrace Drive, Los Ángeles, CA 90063
GRATIS!, no es necesario registrarse
¡Celebre el arte, la cultura, la comida y la comunidad de City Terrace en City Terrace Art Walk!
El Paseo del Arte también es una oportunidad para reinventar City Terrace Drive como una calle que centra a las personas a caminar, andar en bicicleta y andar en bicicleta. Tendrá la oportunidad de interactuar con lo siguiente, presentado por Public Matters:
Una demostración de calles completas para ayudarlo a imaginar y experimentar cómo podría ser una calle completa: cruces peatonales de alta visibilidad, carriles para bicicletas, coloridas extensiones de acera y más. Tendrá la oportunidad de compartir sus comentarios e ideas.
Una presentación de las propuestas de calles completas de City Terrace Drive por estudiantes de East Los Angeles Renaissance Academy en la escuela secundaria Esteban E. Torres. ¡Consulta propuestas para calles más seguras!
Una exhibición de transporte personal impulsado por personas, fabulosas y fantásticas transformaciones de bicicletas, patinetas, cascos, andadores, sillas de ruedas, que celebran cómo el este de Los Ángeles se mueve con estilo.
Talleres de bricolaje personalizados donde usted también puede decorar y transformar su propio tránsito impulsado por personas.
Conéctese con el personal de Obras Públicas del Condado de Los Ángeles, que está ansioso por recibir sus comentarios y opiniones sobre el Plan de Calles Completas de City Terrace Drive actualmente en desarrollo.
Para obtener más información, haga clic aqui. ¡Gratis, no es necesario registrarse!
¡Sigue a @ctartwalk en Instagram para actualizaciones!
—
The City Terrace Art Walk is a part of the East Los Angeles Active Transportation Education and Encouragement Program, supported by LA County Public Works and with funding made possible by SB 1 – The Road Repair and Accountability Act of 2017 through the California Transportation Commission's Active Transportation Program.
//
El Paseo de Arte de City Terrace es parte del Programa de Educación y Fomento del Transporte Activo del Este de Los Ángeles, respaldado por el Departamento de Obras Públicas del Condado de Los Ángeles y con fondos posibles gracias a la SB 1- Ley de Responsabilidad y Reparación de Carreteras de 2017 a través del Programa de Transporte Activo de la Comisión de Transporte de California.