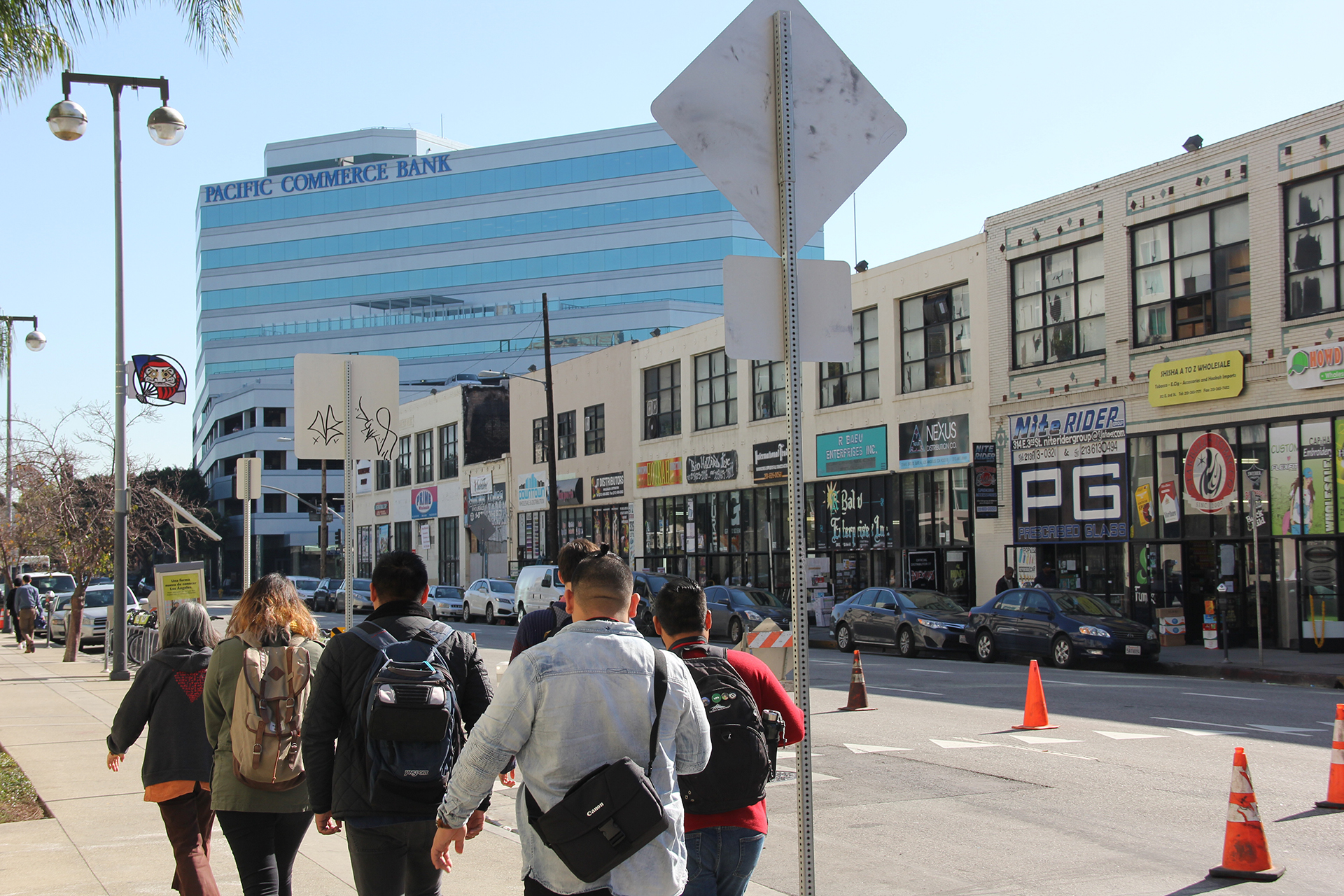 14 Dec

Call for Urban Futures Lab Fellows

The Call for Fellows is now closed. Thanks to all who applied!

******

Public Matters is seeking Fellows for its Urban Futures Lab Program. The Lab is a two-year paid fellowship training and mentorship program geared towards young adults of color ages 18-26 from under-resourced communities in Los Angeles County. The Lab is part on the job training, part professional development, part network building and 100% community focused. At the end of the two year program, Fellows are ready for graduate school, associate positions, or to forge their own paths.

This is a half-time commitment, approximately 20 hours/week.

This opportunity is for you if you are:
Committed to a better Los Angeles through social change.
Passionate about working creatively in the social sector.
Energized by working with local communities and partners.
The Lab is a supportive learning environment that provides opportunities for you to:
Learn and Experiment
Gain Professional Skills
Build a Strong Professional Network
Work with Mentors and Professionals
Learn how to Plan, Launch, Implement and Coordinate Creative Civic Engagements
Fellows come to us with a passion to do something of purpose, but are not quite sure how to get there. The Lab's approach is multidisciplinary. Fellows work and collaborate within a spectrum of career fields, and gaining valuable insight and exposure to a variety of professional disciplines.
During the Fellowship, You'll:
Work on Public Matters' neighborhood-based projects in fields like public health, education, arts and humanities, urban planning, and transportation.
Hone your communication skills in business correspondence, public speaking and social media.
Get behind the camera to create your own videos and photo essays, learning how storytelling can be a tool in social justice work.
Explore the historical and cultural landscape of Los Angeles by going on and leading tours of LA neighborhoods.
Learn, or improve, what you know about bringing people together: from setting a dinner/ conversation menu for invited guests to preparing a multi-partner run of show.
Form relationships, and maybe even friendships, with the people in your cohort.
Work will take place in the neighborhoods where Public Matters has projects, as well as at Public Matters' headquarters in Silver Lake. As the work is rooted in community-based events and activities, you will work occasional nights and weekends. All Fellows will be supervised by Public Matters' Principal.
As a Fellow, You'll Be Responsible For:
Bringing your life experience, creativity, and engagement to learning modules and PM projects.
Maintaining excellent relationships with community members and other stakeholders through professional practices.
Attending meetings with our fantastic partners, community members and other stakeholders.
Participating in community-based, public-facing activities, events, or installations, among other types of interactions.
Planning, presenting and participating in regular Supper Clubs.
Attending and participating in field trips and conferences.
Completing and presenting the Capstone Project.
What You Bring to the Role:
You are self-motivated and take initiative.
You are not afraid of your creativity; you find ways to integrate it into what you do and you want to use it to upend inequitable systems.
You like to take an idea and make it happen.
You think critically and aren't afraid to share your opinions.
You love to work with people of all ages and backgrounds.
You are able to work in group settings.
You enjoy exploring and learning new things, across fields of interest and themes.
Your Qualifications:
Ages 18-26 and a resident of Los Angeles County
Possess a strong commitment to social change
Desire to work in the social sector
Time and willingness to commit to the two year program
Passion for engaging with/within underserved communities to support and empower
Familiarity with Google Docs and Social Media (Facebook, Instagram, and Twitter)
Bilingual/Fluent in English and Spanish a plus
Strong interest in arts or cultural background a plus
Compensation: Stipend of $1,650 per month.
To Apply: Please email info@publicmattersgroup.com by Friday, February 1, 2019 with the following materials:
Cover Letter;
Resume;
List of three references;
Writing sample (max. 500 words) responding to the following prompt: "If you could change one thing about where you live, what would it be? Why?"; and
Optional video –  In addition to the above, you can submit a video (max. 2 minutes) answering the following questions: "If there was a song that would represent the soundtrack of your life, what would it be?  Why?" This gives us a chance to learn more about you beyond your resume and to put a face to a name. Submissions will be reviewed based on the content of the video, not on its production quality.
If you have questions, email info@publicmattersgroup.com.
About Public Matters
Public Matters is a creative studio for civic engagement. Founded in 2007, it is an award winning, Los Angeles-based social enterprise that grows leadership capacity in our most vulnerable communities of color through collaborative creative acts for public good. Public Matters brings imagination, cultural competencies and systems-thinking to community centered, equity-driven work for social change. Its diverse portfolio includes the design and implementation of public engagement efforts in healthy food access, tobacco control, education, arts and equitable development, public humanities, multimodal transportation and traffic safety. Public Matters strives to create sustainable systems that build the capacity of residents, organizations, schools and students to determine their destiny. We call this "deep civic engagement." We also bring this approach to our short-term consulting work in education, civic engagement, and program design. Public Matters' team consists of artists, educators, media specialists, cultural planners, and Fellows.