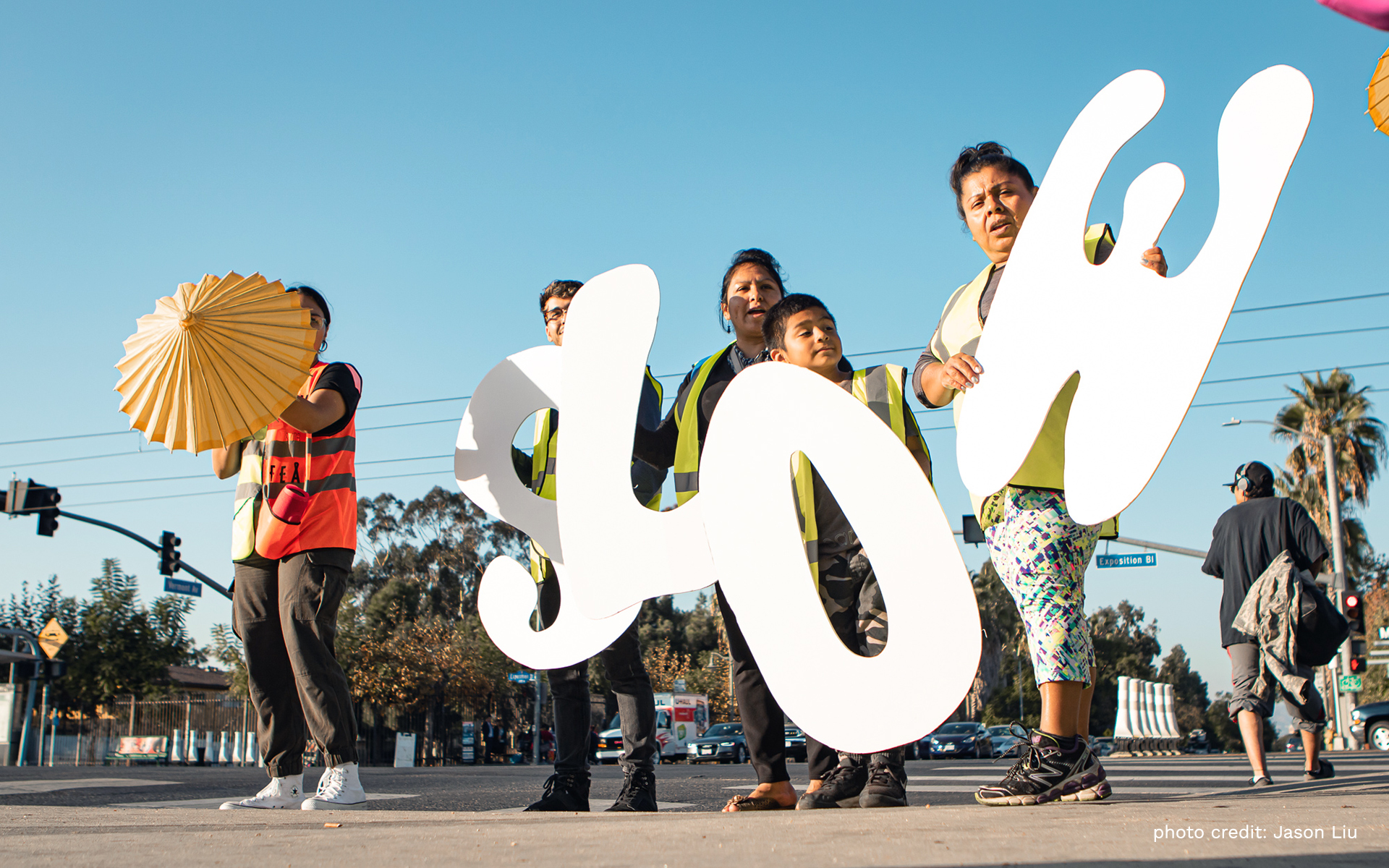 08 Apr

April 23, 2022 – University Park Slow Jams!
Saturday, April 23, 2022
//

11:00am to 1:00pm

//
Join us at one of two locations – or both!
FREE! no registration required
This spring, University Park Slow Jams takes to the streets surrounding the University of Southern California in a creative call to action for safer streets. The event will bring together the University Park community – including neighborhood residents and USC faculty, staff, and students on the weekend of the LA Times 2022 Festival of Books, taking place on the USC campus. Open to anyone interested in safer streets for all, the event will feature live performances by USC Mariachi Club, the climate justice jazz band LA BAMBA (LA Brigade of Activist Musicians Bands & Artists), and more. Participants will be invited to move across designated intersections holding a pre-made Slow Jams prop in whatever way they'd like — whether it be walking, dancing, rolling, or any other creative movement. Spontaneous choreography welcome!
Los Angeles streets, especially in South LA, are more dangerous than ever. 2021 was the deadliest year in almost 20 years (Laist). Reclaiming public space through creative expression and conspiratorial joy, University Park Slow Jams draws attention to the traffic dangers on neighborhood streets and throughout Los Angeles.
So come, grab a prop, and get jamming!
For more info

//

how to get involved:
Email info@publicmattersgroup.com with "April 23 Slow Jam" in the subject line.
To learn more about the University Slow Jams project, visit the Storymap here. Or, check out previous Slow Jams!
Things to Know:
>>  We'll be outside, so a hat, sunscreen, or anything else you may need for sun protection is encouraged!
>>  We'll have water & snacks.
>>  Parking may be limited, so we encourage participants to take public transit. The Slow Jams sites are close to the Expo/Vermont & Expo Park/USC Metro stations and the Vermont/Jefferson & Exposition/Vermont bus stops.
Co-presented with the USC Sol Price School of Public Policy, Los Angeles Walks, USC Kid Watch, and USC University Relations. University Park Slow Jams is supported by Arts in Action, USC Good Neighbors Campaign, and RAP at USC.
>>

EN ESPAÑOL

<<
S

á

bado, 23 de Abril, 2022
//

de 11:00am a 1:00pm

//
Únete a nosotros en uno de los dos lugares – o en ambos!
GRATIS!, no es necesario registrarse
Esta primavera, University Park Slow Jams toma las calles que rodean la Universidad del Sur de California en una creativa llamada a la acción para lograr calles más seguras. El evento reunirá a la comunidad de University Park -incluyendo a los residentes del barrio y a los profesores, empleados y estudiantes de USC- en el fin de semana del LA Times 2022 Festival of Books, que tendrá lugar en el campus de USC. El evento, esta abierto a cualquier persona interesada en que las calles sean más seguras para todos, contará con presentaciones en vivo del Club de Mariachis de la USC, LA Bamba Climate Justice Jazz Band (LA Brigada de Activistas Músicos  Bandas y Artistas) y otros. Invitamos a los participantes a atravesar las intersecciones designadas sujetando un accesorio de Slow Jams hecho de forma que puedan– caminar, bailar, rodar o realizar cualquier otro movimiento creativo. Se aceptan coreografías espontáneas.
Las calles de Los Angeles, especialmente las del sur, son más peligrosas que nunca. 2021 fue el año más mortal en casi 20 años (Laist). Reclamando el espacio público a través de la expresión creativa y la alegría conspirativa, University Park Slow Jams llama la atención sobre los peligros del tráfico en las calles del barrio y en todo Los Ángeles.
Así que vengan, tomen un accesorio y pónganse a jugar.
Para más información
//
para saber cómo participar:
Envía un correo electrónico a info@publicmattersgroup.com indicando en el asunto "April 23 Slow Jam".
Para saber más sobre el proyecto de Slow Jams de la Universidad, visita el Storymap, o echa un vistazo a los anteriores eventos de Slow Jams.
Cosas que hay que saber:
>>  Estaremos al aire libre, por lo que se recomienda llevar sombrero, crema solar o cualquier otra cosa que pueda necesitar para protegerse del sol.
>>  Se ofrecerá agua y aperitivos.
>>  El estacionamiento puede ser limitado, por lo que animamos a los participantes a tomar el transporte público. Los lugares de los Slow Jams están cerca de las estaciones de metro Expo/Vermont y Expo Park/USC y de las paradas de autobús Vermont/Jefferson y Exposition/Vermont.
Co-presentado con la USC Sol Price School of Public Policy, Los Angeles Walks, USC Kid Watch y USC University Relations. University Park Slow Jams cuenta con el apoyo de Arts in Action, USC Good Neighbors Campaign y RAP at USC.