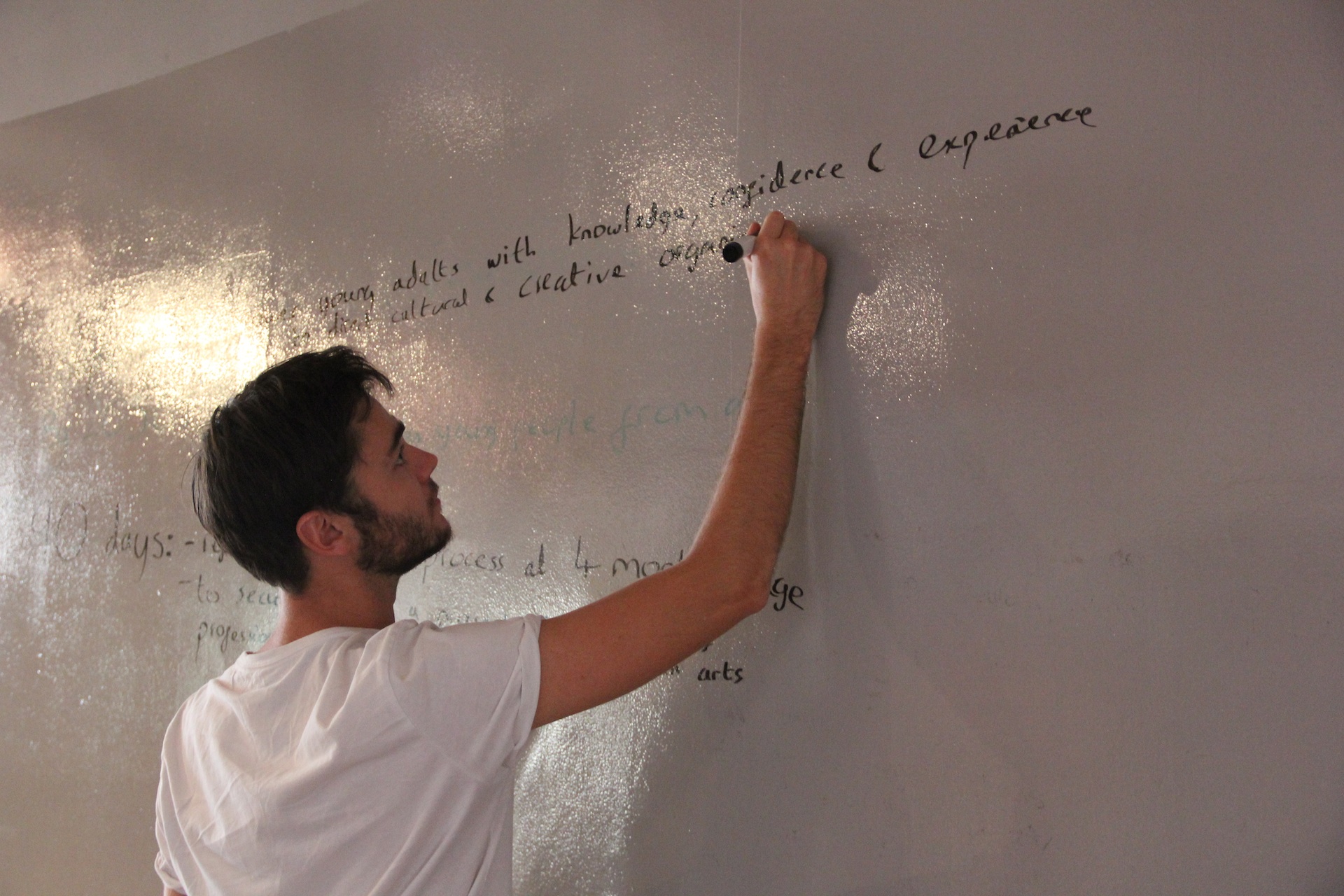 12 Jan

Cracked buckets & the roots of our ambition

By: William Warrener

—

Reflections on Module 2: Educational, Life and Career Pathways.

I want to become the founding director of a major arts organization. No, wait. I want to become the founding director of a major arts organization that exists to train young people from low-income communities as the next generation of producers and cultural leaders. Still not right.

"I want to become the founding director of a major arts organization that exists to train young people from low-income communities as the next generation of producers and cultural leaders. By doing that, I will directly help to create an arts sector that is fully invested in creating a more equal society."

This sentence reflects my 'life purpose'. Even though I've thought about it a good amount recently, it still took me 20 minutes to complete. Throughout December we set the Urban Futures Lab Fellows the task of determining their own life purpose statements. When I originally stood up to present mine to the Fellows as an example, I settled for the second version before sitting down and feeling pleased with myself. Where did my attempt fail? In omitting the most important detail: the 'why' at the root of my ambitions – my desire to contribute to a more equal society.

My error is a common one. While helping the Fellows to focus upon their career aspirations – ranging from urban policy influencing, educational scholarships and artists' collectives – the 'why' framing their choices has consistently been the most difficult thing to articulate. I'd argue that this problem occurs in professional life everywhere. In some cases, it can be hard to attach the correct words to our passions and values. In others, more problematically, it's uncomfortable to admit that the 'why' of our work may be built upon shaky foundations, such as status, wealth or recognition detached from anything deeper.

The time that the Fellows have spent with Roland Navarro de Ros working on their life purpose statements has thrown up some interesting insights. In a weird way, being asked to dream freely about what it is that you'd most like to do with your time can be an unsettling experience. One Fellow, finding it hard, concluded that the simple act of being outside and in the world is the thing that brings them happiness. For me, this moment revealed the point of the exercise: when we're feeling overwhelmed and paralyzed by possibility, the answer can often be found closer to home, in an instinct that we've initially dismissed for being too simple. In this Fellow's case, I was reminded that 'happiness' is a safe bet for a sturdy 'why'. We're currently working together to place that Fellow's love of the outdoors at the center of their life purpose project.

We've asked the Fellows to develop these easily repeatable life purpose statements for a variety of reasons that we think are important to their professional development. For one, a well-oiled 15 second personal manifesto is an incredibly powerful tool to have up your sleeve in a whole host of situations – interviews, networking events, even dinner parties. Secondly, it can anchor and focus your future work: the collection of short films that the Fellows have produced this month are influenced by this exercise, as are the 90 day action plans that they've been busily constructing.

One key thing that I've learnt, however, is that having a purpose is important no matter how ultimately successful you are in fulfilling it. In the story of the Cracked Bucket, a leaking bucket proves a daily disappointment to a worker transporting water to a house. It's only when the worker stops to reflect upon his difficulties that he notices the flowers sprouting all along his path, watered over time by the leaking bucket. The point of this story? To remind us that what we perceive as our own regular mini-failures can have beautiful and unintended consequences. Above all, it's the act of trying that counts the most.

***

William Warrener works as a project manager and producer in arts and culture. He supports the Urban Futures Lab Fellowship by assisting in the development of training content, editing Fellows' work, and providing guidance to Fellows' professional development. In addition to Public Matters, he regularly works with Bird and Gorton, an international team of arts consultants. He is in his element when bringing people together to use art, stories and debate to enact positive change. Before arriving in Los Angeles in summer 2016, William spent three years running projects for the Cultural Institute at King's College London, developing professional opportunities for students within London's most prestigious cultural organizations. He continues to host and facilitate King's Culture Hacks. Alongside this, between 2012 and 2016 William worked with London's pioneering Clore Leadership Programme, managing residential courses for groups of international cultural leaders and programming international study visits.

He is especially passionate about tennis, Turkish food and performing music with friends.