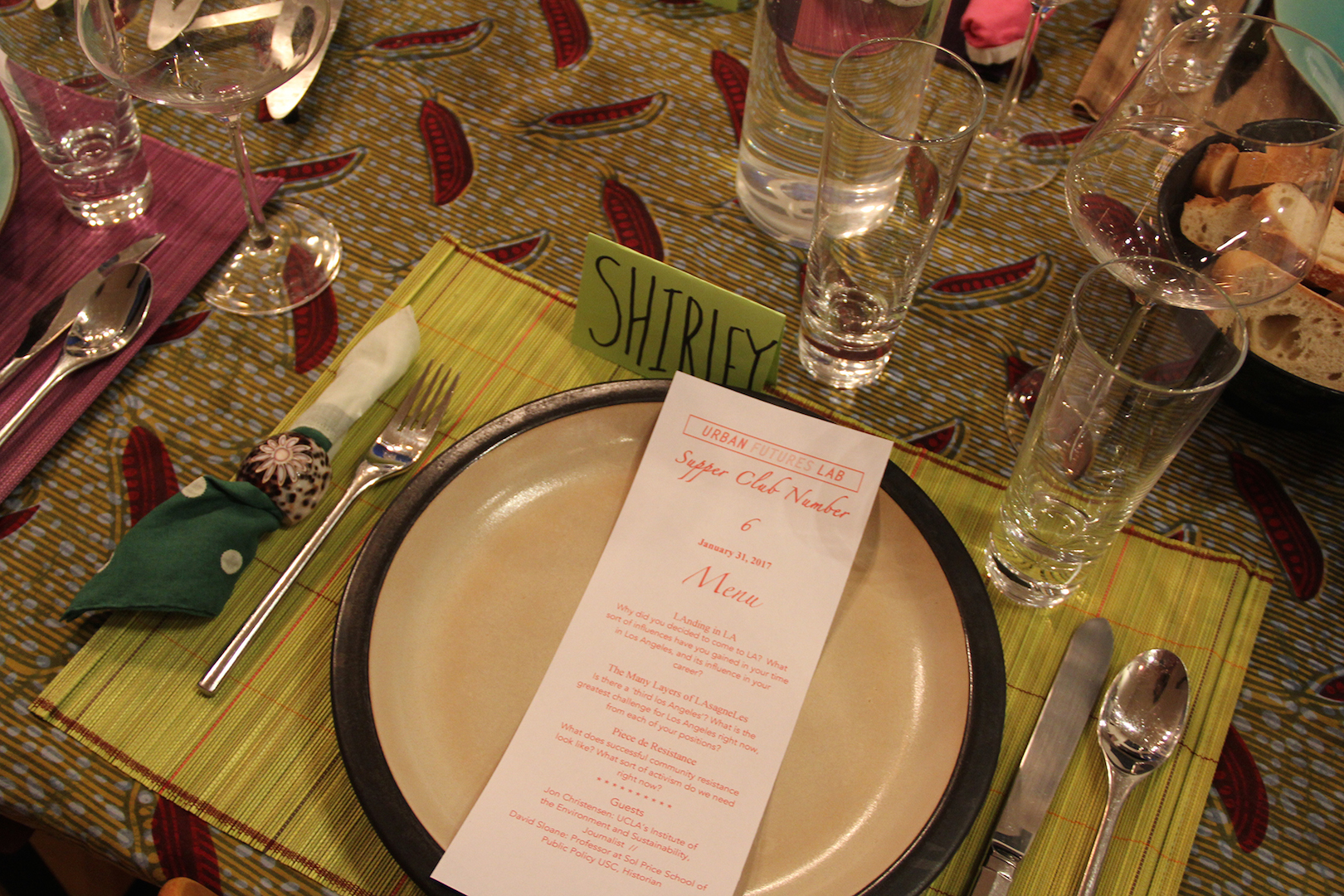 05 Mar

URBAN FUTURES LAB MODULE 3 OVERVIEW

FELLOWS EXPLORE AND CRITICALLY ANALYZE LA'S SOCIOPOLITICAL AND ENVIRONMENTAL HISTORY

Investigating LA's Sociopolitical History

Module 3 of the Urban Futures Lab challenged Fellows to dig beneath the surface of everyday life in Los Angeles. To do neighborhood-based work, it is essential that Fellows have a deeper understanding of L.A.'s overall history, and how policies and developments have shaped those neighborhoods. Fellows connected with people and locations that revealed the stories of communities that have been directly influenced and in many cases displaced as a result the city's turbulent sociopolitical history. In addition, the Fellows explored various communities' current efforts to achieve greater sustainability, security and independence for their residents in the face of rapid urban development and change.

In module 3 each Fellow:
Participated in a tour entitled "Planned Forgetting" led by Taylor Fitz-Gibbon of UCLA's Center for Research, Media, Engineering and Performance (REMAP) to investigate historical events and upheavals surrounding the original Chinatown, Downtown, Bunker Hill and Chavez Ravine.
Undertook a field trip to the LA River and its surroundings under the guidance of environmental journalist and historian Jon Christensen. With advance readings selected by Jon, the group learned about the link between environmental history, the River and present day LA while discussing current plans for the River's revitalization through interviews with artists at Metabolic Studio, staff at the LA State Historic Park and a trip to the Bowtie Parcel.
Spent a day in conversation with community organizations based in Little Tokyo to gain insights into Little Tokyo's origins, history of resilience, and how the community is responding to an increasing pace of local urban development and investment. This included sessions with Leslie Ito and Alison de la Cruz at the Japanese American Community Cultural Center and Dean Matsubayashi at Little Tokyo Service Center. Prominent local activist Kathy Masaoka concluded the day with a Little Tokyo tour
Developed aspects of each of these activities into individual photo-essays, drawing upon their documentation from throughout the month. View these photo-essays here.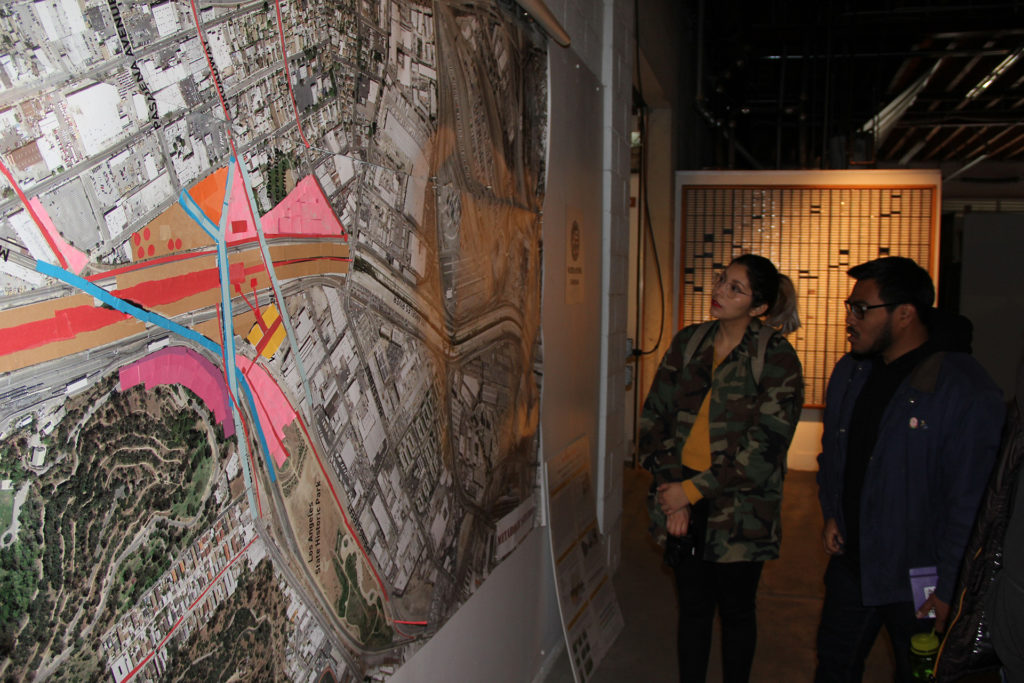 Shirley and Chris explore the map at Metabolic Studio.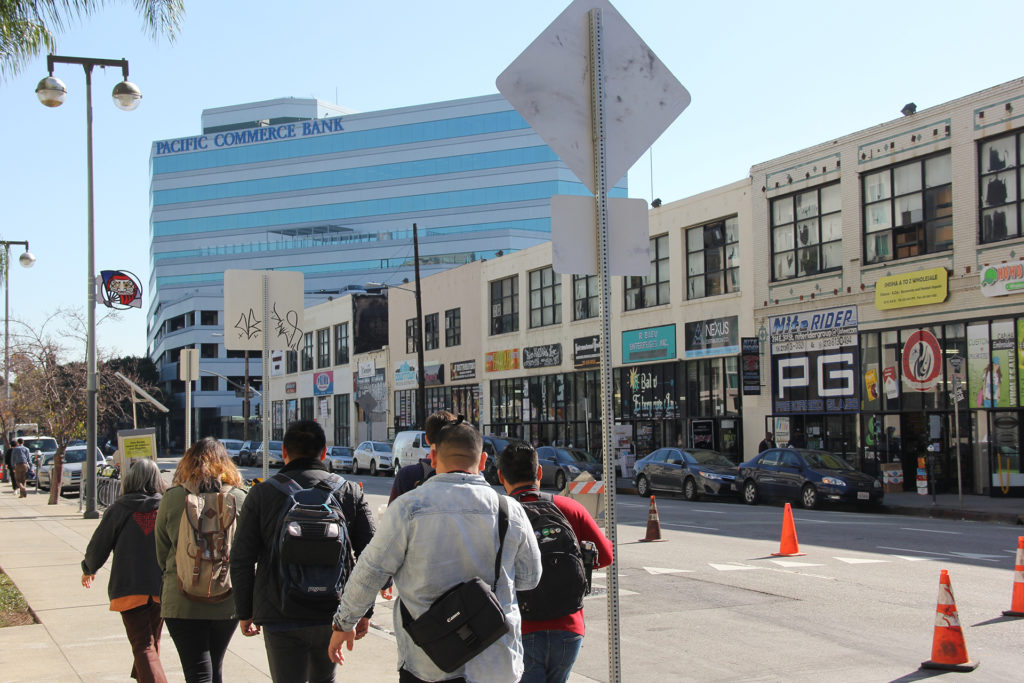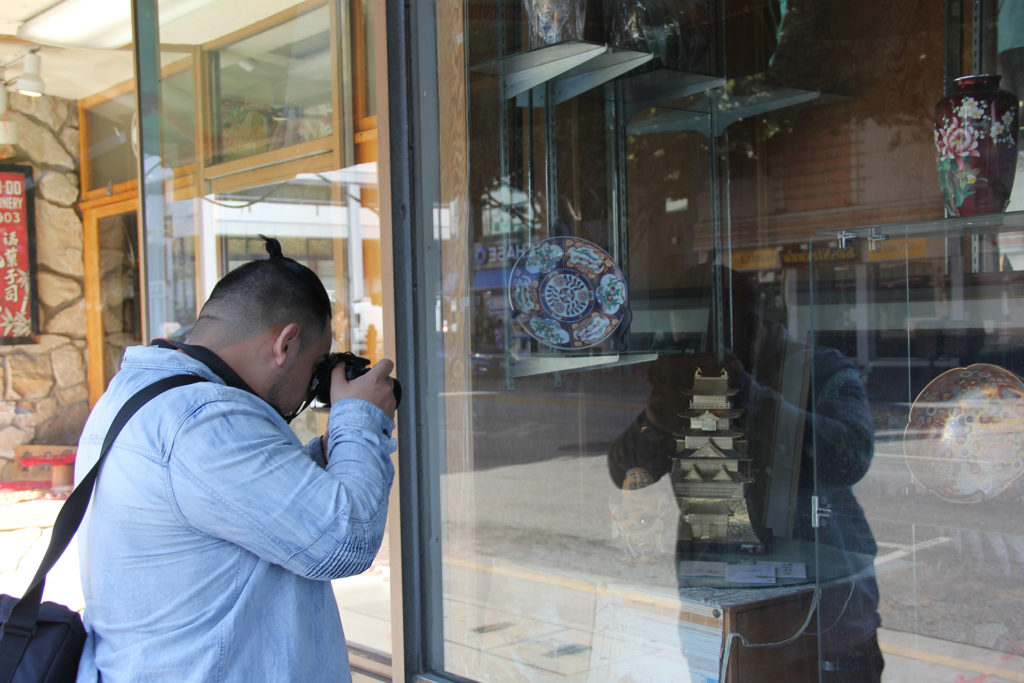 The Fellows exploring (top) and Andy documenting (bottom) Little Tokyo.
In Focus: UCLA REMAP and developing interpretive media
We began the module by introducing Fellows to REMAP's work in order to learn about alternative methods for documenting urban change. Blending educational, artistic and urban planning practices in the production of media that recovers the seismic changes encountered by residents of the Downtown area, REMAP's approach introduced the Fellows to visual storytelling techniques that they then honed during the production of their own photo essays. Some of the themes of that day, including the overlap of power and water in LA, are present in the Fellows' work.
The Supper Club series rolls on…
'Stories of "LAsagneLes"' was the theme for this month's Supper Club – no prizes for guessing what the Fellows cooked for guests Jon Christensen and David Sloane (Professor of Urban Planning at USC's Price School of Public Policy). Drawing upon their acquired knowledge of Los Angeles's recent sociopolitical and environmental history, the Fellows asked Jon and David to share the external factors that shaped their careers in history, journalism and urban planning. Moving from the past to the present, the dinner concluded with a group discussion about current strategies for political activism during a time of high civic engagement.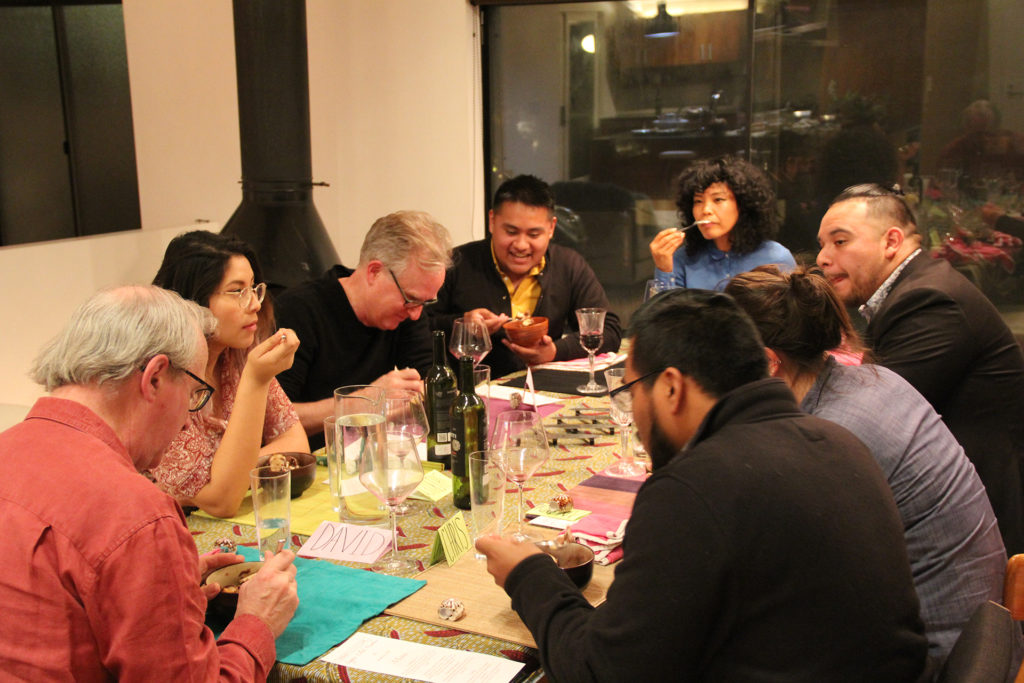 Outcomes
The module's field trips provide a vital opportunity for the Fellows to expand their understanding of LA's sociopolitical and environmental trajectory, and consequently why certain local communities look and function as they do. Through exposure to current scenarios of major community and landscape change, the Fellows complete the module in a stronger position to recognize the differences between harmful and sustainable, accountable urban development.
By producing photo essays the Fellows have continued to grow their communication skills. Their portfolios now include making creative use of the relationship between text and image. This activity, which included individual consultations with Public Matters artists, diversifies each Fellow's communication skill-set as they work towards positions of community, cultural and civic leadership.