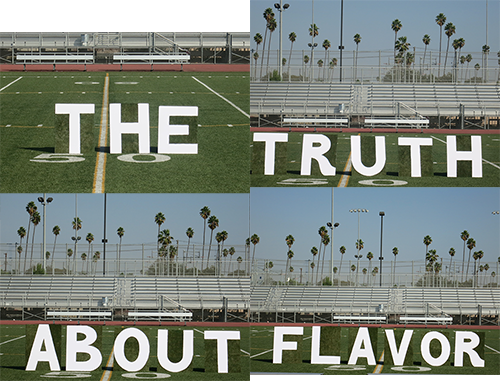 16 Oct

THE TRUTH ABOUT FLAVOR: "Guaranteed Fresh" Perspective

Since the middle of September, students in South L.A. at Augustus Hawkins High School's Community Health Advocates School (CHAS) have been getting a fresh perspective on tobacco.  Specifically, they've been exploring issues related to small flavored cigars and cigarillos and are becoming community health advocates and media-makers in the process.

Public Matters, with CHAS, the American Legacy Foundation (Legacy) and Dr. Mignonne Guy, a researcher from Virginia Commonwealth University, are undertaking this pilot project to better understand and influence flavored cigar and cigarillo use in youth/young adult populations in communities like South L.A.  Central to this project is the creation and dissemination of artist- and student-created media.  L.A. Freewaves and Public Matters will join together again to show five short videos on L.A. Metro buses through Freewaves' Out the Window project, thanks to generous support from The Robert Rauschenberg Foundation. In addition, the class will work with Public Matters to produce a longer documentary video on the subject that will screen out in the community and to tobacco-control audiences in the City and County of Los Angeles.

In the first five weeks of working with Public Matters, CHAS students have gotten crash courses in filmmaking and media literacy, including incursions into big tobacco history and advertising.  "A-ha" moments and all, these sessions form the base of discussions that draw out the students' perceptions on the risks and harms of flavored cigars, and that ultimately build their knowledge around tobacco-related health disparities and outcomes.

Simultaneously, the class plunged into filmmaking.  With beads of sweat and the bravery needed to face September's heat, students took to Augustus Hawkins' field to shoot the title sequence for their videos (teaser photos above). As they continue to develop their own concepts and community content, we're excited to see how this new cadre of creative young health advocates will approach the topic of small flavored cigars and cigarillos with a critical perspective.

Public Matters would not be able to implement "The Truth About Flavor" without two members of its Urban Futures Lab, Community LiaisonsJocelyn Herrera and Xochilt Sanchez. This dynamic duo offers essential program support, assisting with teaching, production and post-production, and serving as all-around awesome role models for the CHAS students.
PROJECT PARTNERS:
Legacy is the largest non-profit public health organization in the nation devoted specifically to tobacco control. It has a history of producing game-changing public health initiatives – like its award-winning truth® youth smoking prevention campaign – that are proven to reduce tobacco use among youth and young adults.
Augustus Hawkins High School consists of three distinct small schools: 1) Critical Design and Gaming School; 2) Community Health Advocates School; and Responsible Indigenous Social Entrepreneurship School.  It is located in South Los Angeles.
L.A. Freewaves creates public media art events that bring diverse audiences and independent media artists together in dialogue on current issues; promotes innovative and people-centered cultural engagement through project-specific platforms – multiple, scalable, online, at established and nontraditional venues; serves audiences throughout Los Angeles County and beyond with a mixture of local and international media art; and provides free online access to one of the largest digital archives of contemporary media arts.
Mignonne C. Guy, Ph.D. is an Assistant Professor at Virginia Commonwealth University. Her research has included small to large-scale health services and outcomes research studies involving multiple stakeholders as well as applying the principles and practices of community-engaged research in cancer and chronic disease prevention. Her research agenda centers on three complementary areas of cancer prevention in multi-ethnic and underserved populations: 1) understanding socio-cultural, behavioral, and structural/institutional factors that present barriers to the prevention of cancer, 2) culturally tailored interventions, and 3) improving access to and utilization of health care services by increasing the reach of evidence-based practices through dissemination research. Her work utilizes mixed-methods and often incorporates community-engaged research approaches.