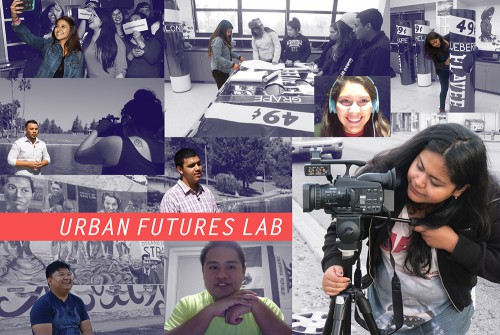 20 Oct

THE TIME HAS COME! LA2050 VOTING SEASON IS UPON US! PUBLIC MATTERS NEEDS YOUR VOTE!

Voting starts at 12PM (Pacific) on October 20, 2015 and runs until 12PM (Pacific) on November 3, 2015.

Public Matters has the rare opportunity to raise $100,000 for our fellowship, training, mentorship, and employment program: URBAN FUTURES LAB.

For many of you, this is your first time hearing about Urban Futures Lab. Through the Lab, we're training Fellows as interdisciplinary creative community problem solvers and future civic leaders as they work on projects that strengthen LA neighborhoods. The Lab creates work that matters. It reimagines Los Angeles' civic and creative capital by altering how young adults from under-resourced communities of color access opportunities that employ their inventiveness and support their professional aspirations.

With your help, the LA2050 grant will allow Public Matters to train Fellows with career and life skills, and conduct expert-led workshops and trainings. Principally, we'll be able to bring Fellows on for hand-on learning through projects such as:

• Hidden Hi Fi – an arts + culture + equitable development project with Pilipino Workers Center, Big City Forum and Metro in Historic Filipinotown.

• An urban planning + design project with East Los Angeles Renaissance Academy (ELARA).

• "B.O.S.S." (The Bureau Of Super Snacks/ Bocadillos Optimizados Súper Saludables) – a program with the LA Kitchen to provide low-cost, healthy, nutritious and culturally appropriate snacks on LA's eastside.

• Market Makeovers – projects to improve healthy food access.

We're up against some stiff competition: mighty institutions and savvy promoters. Yet, we are hopeful that with our dedicated network —especially with your help – we'll make it into the Top 10 for our category (Create) and qualify for review by the LA2050 selection committee (voting narrows the field; the foundation makes the final decisions).

Watch the video that puts the spotlight on our potential Fellows explaining their needs for the Lab, and read the descriptions detailing the opportunities the Lab will offer. Once you've watched and read more, share your comments on that same Urban Futures Lab's LA2050 page.

We need your vote to make this happen. You can only vote for one project in each category. We hope to have yours. You'll need to register with GOOD to place your vote. Don't be deterred by the process. Every vote, YOUR VOTE, means a lot.

To vote, click HERE.

Finally, please help spread the word to your significant others, friends, family, neighbors, knitting club. It's the power of the extended network that will help bring this one home.

Thank you from Team Public Matters!