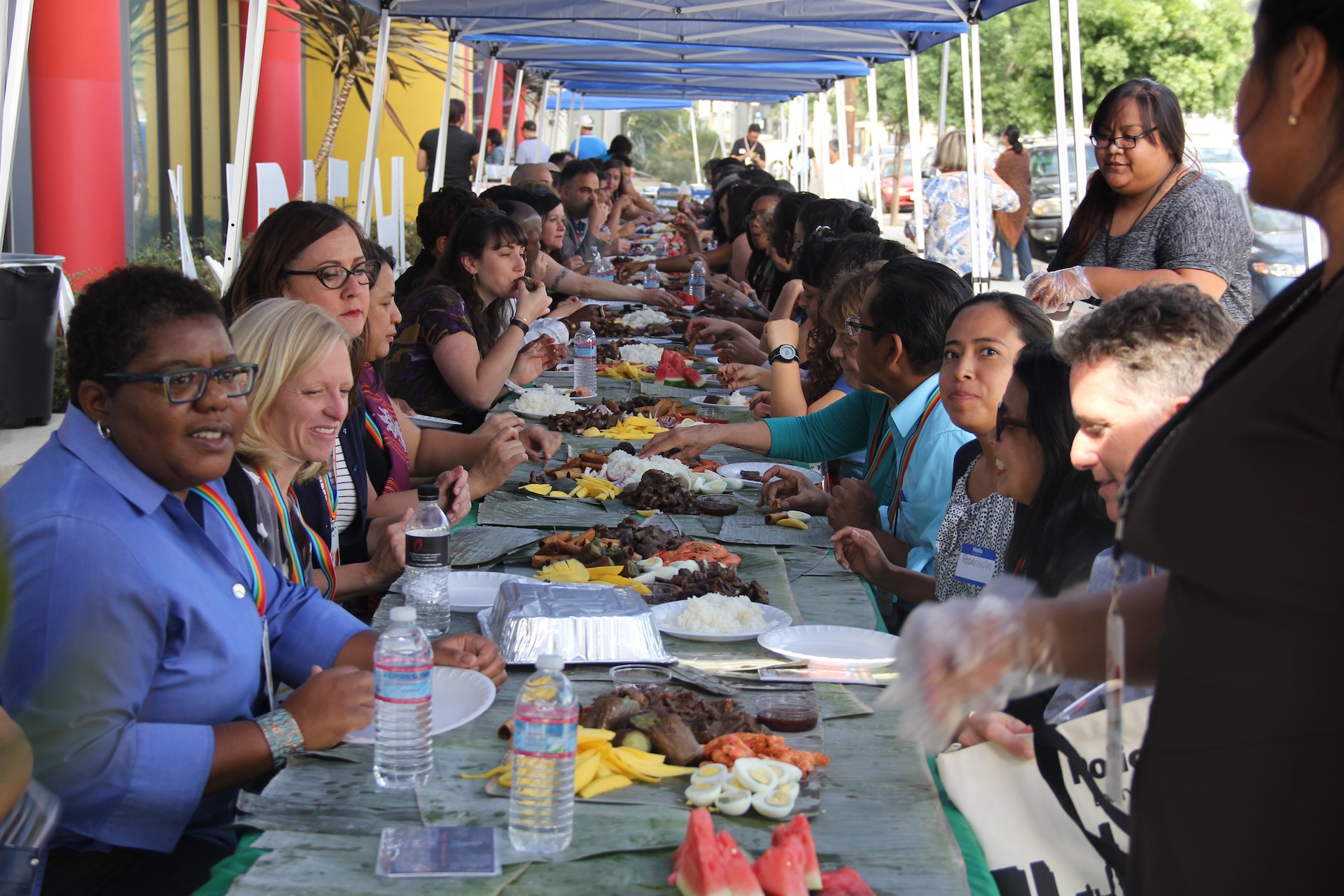 02 Dec

PolicyLink's Arts + Culture + Equitable Development (ACED) Institute Hits Historic Filipinotown

Writing by Public Matters Fellow Xochilt Sanchez


On October 27, 2015 Public Matters, in collaboration with our Hidden Hi Fi partner, the Pilipino's Workers Center (PWC), and PolicyLink, co-hosted the Arts, Culture and Equitable Development Institute—a pre-conference session for PolicyLink's 2015 Equity Summit. The day was designed to engage the Institute attendees, individuals from organizations, businesses, and governments across the US, in deep thinking on two key subjects: 1) PolicyLink's draft framework for Arts, Culture and Equitable Development; and 2) Hidden Hi Fi, our newest project with PWC in Historic Filipinotown.
For those unfamiliar with PolicyLink, the organization focuses on the development of low-income communities based on community needs. By placing emphasis on needs, policy is created as the solution to societal problems–empowered community members will be the agents to create positive change. With an emphasis on arts and culture—representative of community culture—PolicyLink believes that fostering artists, creative ingenuity and expression of culture leads to thriving, vibrant communities.
Historic Filipinotown (Hi Fi) serves as a prime example of community-building through arts and culture. Hi Fi received its designation because of the work done by the community of lobbying City Council members for their support. PWC, once located in a home office, now resides in the Larry Itliong Village, a three story building with 22 units of affordable housing—the PWC offices housed on the ground floor. The existence of a project like Hidden Hi Fi is a direct result of community activation and organizational leadership. The PolicyLink team believed that by studying what has been done, and is being done in Hi Fi, pre-conference attendees could bring their skills and expertise to thinking about arts, culture and equitable development through this concrete model, and to their communities across the country.
The work of the Institute, including presentations, panels and small group sessions focused on hyper-local examples and discussion around topics such as neighborhood economic development, fostering and growing established businesses and neighborhood assets versus new development via gentrification, workforce development, increasing access to local capital, and others. Throughout the discussions, groups focused on the necessity of art-making/art as a form of education/self-expression to call attention to the social conditions, needs of communities, and neighborhood identity.
As the Institute took place at PWC, throughout the Larry Itliong Village, and placed to the forefront the subject of Hidden Hi Fi, Filipino culture was embedded in all elements of the day. The day was framed by cultural experiences including Jeepney tours of the community. Neighborhood experts served as tour guides, and media content created from Pdub Productions was screened to provide historical and cultural context as well as feature the diverse names and faces of the vibrant inhabitants of Hi Fi.