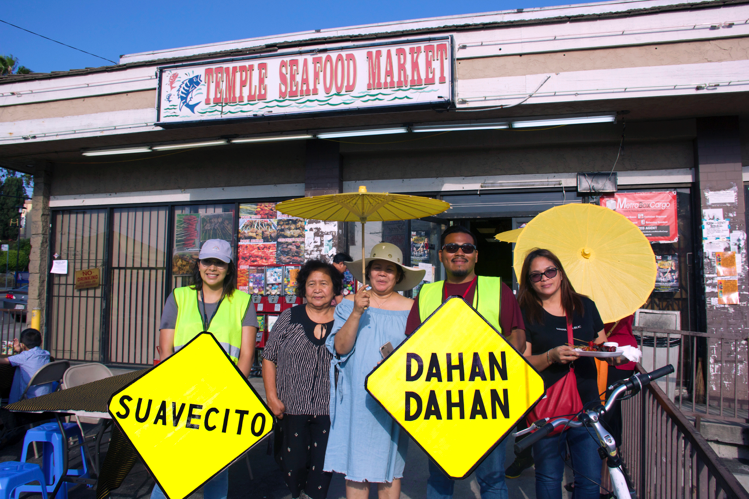 15 Aug

Neighborhood Badge

By: Christopher Barahona

//

With each module, Fellows dig into readings, exercises, conversations, and reflections around a theme. The focus of Module 5 was Leadership.

I'm always the mediator in my family and all social groups. What I mean by that is that most people in my life tend to place me in the middle of situations. Maybe it has to do with my ability to offer sage advice? Comedic genius? Who knows?

To my friends and family is also as a leader. Family and friends look to me for guidance with anything from restaurant recommendations to fashion tips. Or when it comes to doing something for both friends and family they usually have me fill the role of leading us to something cool and fun to do. Which I happily take great pride in since I always is in the know of cool fun things to do in Los Angeles.

While reading the Harvard Business Review's "The Work Of Leadership" written by Ronald A. Heifetz and Donald L. Laurie, I was taken back with a quote highlighted at the top left corner of the write-up, "Real leaders ask hard questions and knock people out of their comfort zones."  I read that and was like, "WOAH, Never thought of it like that!" It makes sense when I think about prominent leaders in history like Malcolm X.

Malcolm X questioned a lot of the peaceful movements during the Civil Rights era. He put people out of their comfort zones with the notion of meeting hostility with hostility when it came to the civil rights movements and to the treatment of African Americans by the United States Government.

I started to think about my own comfort zone. I feel I'm really good at handling situations that most people would not be comfortable with. In various projects with Public Matters, I'm often placed in situations that I would otherwise avoid. For example, being placed in a seminar of seasoned professionals talking about 501c3's and government funding for the arts. Being new to this world I was intimidated at first, but I quickly got over it and started to ask questions as a means of learning and being able to hold my own if put in this same situation down the line.

Recently at Public Matters, we worked on a cool project based around pedestrian safety along Temple Street, which is a main vein that connects Los Angeles to its downtown via the Echo Park and Historic Filipinotown neighborhoods. There have been a lot of collisions involving cars, pedestrians, and bike riders along this stretch. The City of Los Angeles decided to combat this by aspiring to reduce pedestrian deaths by car collision to zero by 2025 under the Vision Zero Los Angeles umbrella of change. We named these events Temple Street Slow Jams.

Being the imaginative group that we are at Public Matters, we wanted to approach this project as creatively as possible. We decided to do various activations along Temple St. with street choreography and live mural paintings.  I was super excited to start this project since I enjoy working in the community that has a personal place in my heart. I grew up in Historic Filipinotown. My grandfather has lived in the neighborhood for over two decades and I was constantly visiting him.  I remember a lot of the community staples that are still found there today.

In order to execute the projects, we split the street into 4 different HUBs where each day we would feature different props and a new mural.  A Fellow led each HUB. We were responsible for getting the various community entities found within our area to become participants and supporters of Temple Street Slow Jams. This meant making calls and setting up in-person meetings.  When the day came for our HUB to be activated, we were the point person for everything that came with the activation, from making sure we had all our supplies accounted for to even being the lead in having folks hold up props for the crosswalk choreography.

I was in charge of HUB #4!  I was a bit nervous to be the point person for my HUB, but was eager to face it head on. I reached out to various community groups during a span of five months. The biggest establishment that I had to convince to get on board was Temple Seafood Market. We had worked with the market in the past, but we still wanted their support for Temple Street Slow Jams. I was able to find the contact for one of the owners of Temple Seafood Market and set up an in-person meeting with her to go over the project.

The day of the meeting came. I was anxious, nervous, and excited all rolled up into one. Prior to the meeting I had planned, our biggest take aways from the interaction were to get them on board with the whole project and really stress the importance of community businesses and centers taking ownership of their streets. The owner and I talked while she was running around the store, setting up for a weekly in-store food pop-up where they vend meat on a stick.

While she did this, I broke the project down to the owner: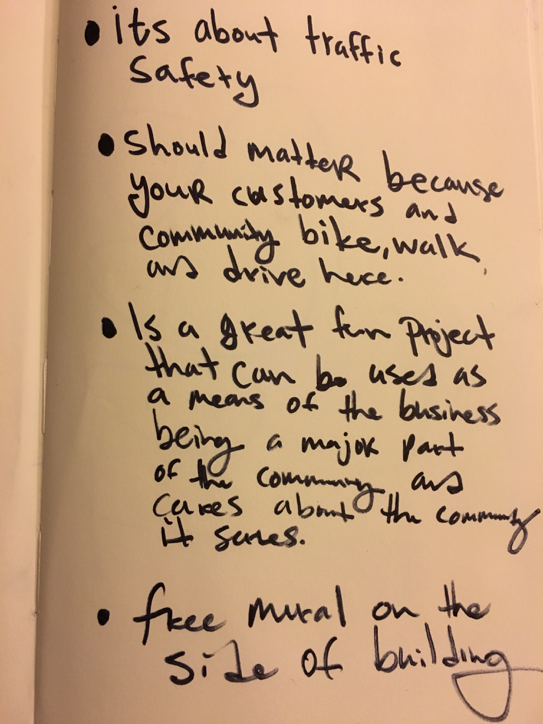 It's about traffic safety.
It should matter because your customers and community bike, walk, and drive here.
It's a great, fun project that can be used as a means of business being a major part of community and about the community it serves.
Free mural on the side of the building.
I made all these points, but she hit me with, "Will it bring business to me?" In that quick second I used what I'd learned about adaptive leadership. Adaptive leadership is being able to pivot during a conversation and being able to find a window when the door is closed, being able to shape what needs to be said or done to get the result. Adaptive leadership is also the ability to understand the needs of the other party and what they would want from the exchange.  I brought up how much business the events and activation of the sidewalks around the space would bring to the store. Once this was mentioned she was behind the project 1000%.
This moment was one where I had to work out of my comfort zone. I had to set up the meeting and interact with an owner of a business. This was new to me. I learned during that interaction that I'm able to think on my toes and adapt to consider what the other party would want from the interaction, and from myself as well. I feel like it was also like being a mediator at the same time, because being the head of a HUB meant being that middle person between the community organizations along Temple St. and the Temple Street Slow Jams team.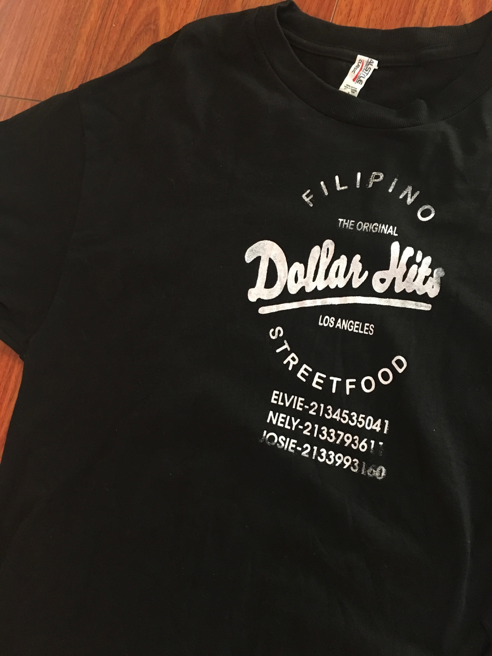 A result of all of this leadership work is a new wonderful relationship between Temple Seafood Market and Public Matters. Elvie, the owner, loved working with us on this project so much that she even gave me a t-shirt from their weekly meat on a stick food pop-up! The shirt really means a lot to me, a sort of physical manifestation of becoming a part of the community. I've always grown up in the neighborhood, but it was important to be acknowledged as someone who is doing good work for the community and by the community. It is why I choose to work in the field that I do, and why community collaboration is so essential in socially engaged work. That is the very reason why I do this work. For the t-shirts, hugs, and smiles whenever being seen in the neighborhood.
The overall experience of being given the position of leadership has really had a lasting impact on me. I always had this idea that leadership meant people getting together and simply designating someone in the group as being their leader. The ability to be a point/middle person, a mediator and a leader, really came out during my time on Temple Street Slow Jams.  Through the meetings set up and accounting that took place on the days of activation. It was all major components towards grasping a new perspective on leadership that I will take in future endeavors in any work that I do and in my daily interactions.
Blog Post #5 // Learn more about Urban Futures Lab.