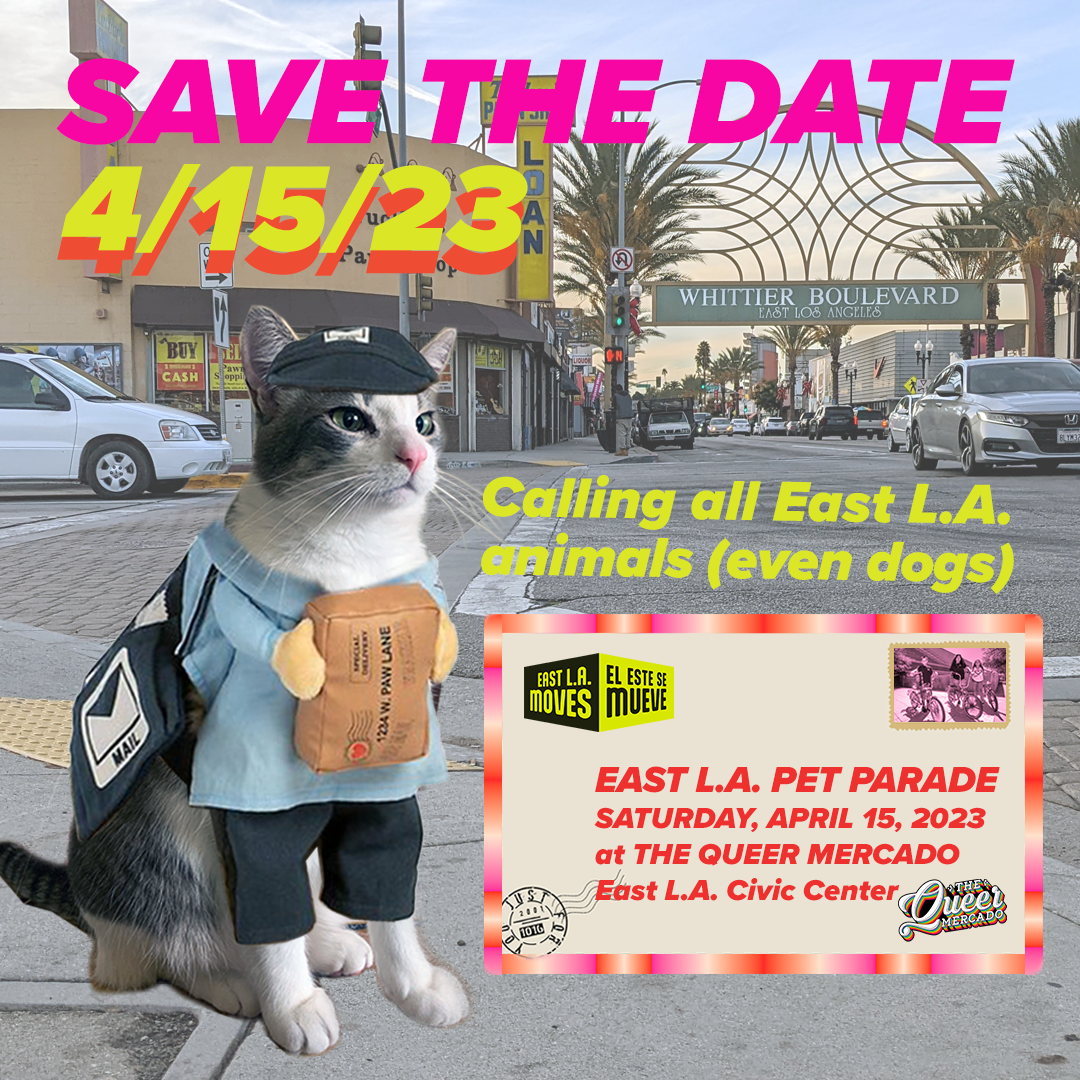 24 Mar

East LA Moves Pet Parade
SATURDAY, APRIL 15, 2023
Queer Mercado, 4801 E 3rd St, East Los Angeles, CA 90022
10:00 am – 4:00 pm, "Pet Parade" at 12:30 pm
31,518 households in East LA have pets – that's a lot of paws and claws using local streets and sidewalks! Let's honor them, how they get around, and make sure our streets are worthy of them.
Join us for the East LA Moves Pet Parade, a celebration of pets, the humans who walk them, and East LA style, promoting safe streets and sidewalks in East LA for everyone. Head over to The Queer Mercado at the East LA Civic Center on Saturday, April 15 for a day filled with dress-to-impress fashion, activities for all ages and animal backgrounds, bonding with fellow animal lovers, giveaways, prizes, and more. 
Bring your animal companions in their most eye-catching outfits, and feel free to get in on the action too. Group outfits welcome; creative expression always encouraged.
At the event, you can:
Participate in the "Pet Parade"

at 12:30 pm. Join the procession, strut and sashay down The Queer Mercado runway, and compete to win pet-centric prizes for best costumes in the following categories: 

East LA Pride

Most Fantabulous

Pet-Powered Transportation (walking, biking, rolling)

Selena-themed 

Strike a pose and take family photos

at our pet-themed photo booth, showing off your best style with the help of our fantastic props.

Sign a "Pet-ition"

to LA County Paw-liticians for better, safer streets in East LA for all ages, abilities, and animals.
For more information contact Christine Vazquez christine@publicmattersgroup.com 
Make sure to follow Public Matters on ig @publicmatters
---
East LA Moves Pet Parade is made possible as part of the Los Angeles County Public Works' East Los Angeles Active Transportation Education and Encouragement Program, by SB-1- The Road Repair and Accountability Act of 2017 through the California Transportation Commission's Active Transportation Program. 
>> EN ESPAÑOL <<
SABADO, 15 DE ABRIL DE 2023
Queer Mercado, 4801 E 3rd St, Este de Los Ángeles, CA 90022
10:00 am – 4:00 pm, "Pet Parade" a las 12:30 pm
31,518 hogares en el este de Los Ángeles tienen mascotas, ¡son muchas patas y garras en las calles y aceras locales! Honrémoslos, cómo se mueven y asegurémonos de que nuestras calles sean dignas de ellos.
Únase a nosotros para el Este Se Mueve Pet Parade, una celebración de las mascotas, los humanos que las pasean y el estilo East Los Ángeles, que promueve calles seguras para todos. Dirígete al Queer Mercado en el Centro Cívico del Este de Los Ángeles el sábado 15 de abril para un día lleno de moda extravagante, actividades para todas las edades y tipos de animales, unión con otros amantes de los animales, regalos, premios y más.
Trae a tus compañeros animales con sus trajes más llamativos y siéntete libre de participar también en la acción. Trajes de grupo bienvenidos; Siempre se fomenta la expresión creativa.
En el evento, puedes:
Participar en el "Pet Parade"

a las 12:30 pm. Únase a la procesión,

desfila y contoneate

por la pasarela de The Queer Mercado, y compita para ganar premios centrados en mascotas para los mejores disfraces en las siguientes categorías:

Orgullo del este de Los Ángeles

más fantástico

Transporte impulsado por mascotas (caminar, andar en bicicleta, rodar)

con temática de Selena

Haz una pose y toma fotos familiares

en nuestro fotomatón con temas de mascotas, mostrando tu mejor estilo con la ayuda de nuestros fantásticos accesorios.

Firme una "Pet-ición"

a los

abogados de Paw

del condado de Los Ángeles para calles mejores y más seguras en el este de Los Ángeles para todas las edades, habilidades y animales.
Para obtener más información, comuníquese con Christine Vázquez christine@publicmattersgroup.com
Asegúrate de seguir Public Matters en ig @publicmatters
---
El Este Se Mueve Pet Parade es posible como parte del Programa de Educación y Fomento del Transporte Activo del Este de Los Ángeles de Obras Públicas del Condado de Los Ángeles, por SB-1- La Ley de Responsabilidad y Reparación de Carreteras de 2017 a través del Programa de Transporte Activo de la Comisión de Transporte de California.