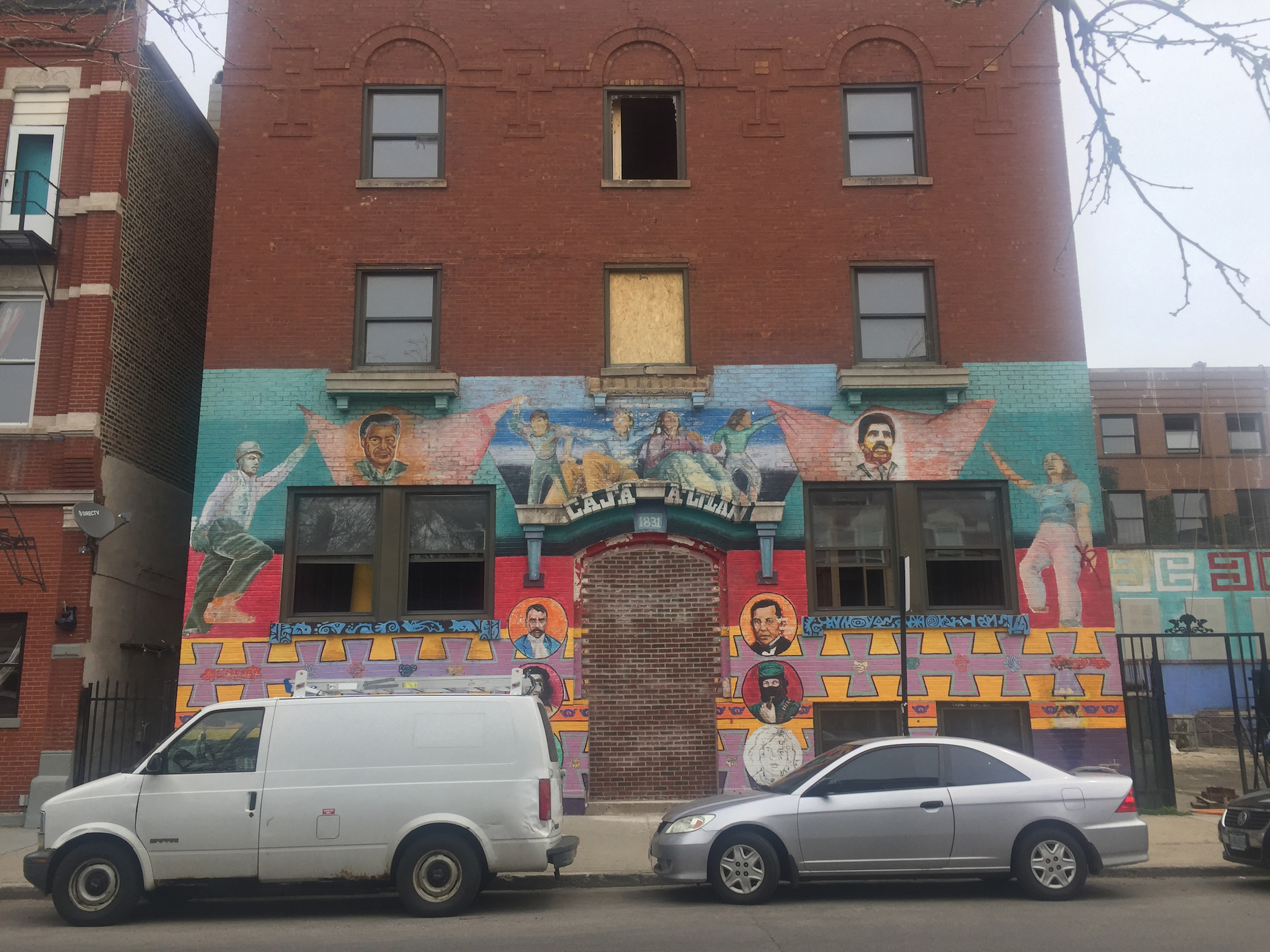 18 Jul

Chicago Times

By: Christopher Barahona


—

Reflections from Open Engagement 2017 – JUSTICE

In all honesty, I had a preconceived notion of what the Midwest was going to be like. That notion was of a city, Chicago, with a lack of diversity and lack of prominent cultural landmarks to see. I was proven wrong. That moment of being proven wrong came as my fellow Urban Futures Lab fellows and me spent four days in Chicago exploring its neighborhoods, cultural centers, and interacting with a range of memorable individuals.

Being able to go to Chicago was amazing; being able to be part of a panel for a national conference is a another whole level of amazing. Attending Open Engagement 2017 was really a life changing experience, since I have a huge passion for the arts and social justice, and Open Engagement was everything I've ever wanted and more! I was super excited on the days leading up to the conference based solely on the names of some of the conference's workshops and talks, which were all spread out across Chicago and in its many, I now know, diverse neighborhoods.

On our first day, we (as in the Urban Futures Lab Fellows) decided on attending Arts Spaces and Placekeeping as Resistance. The title alone got me all types of excited, since these were words and concepts I'd become familiar with during one of our fellowship learning modules, which was focused on learning about place-making and socially engaged art. It was gratifying to know that I had an existing knowledge of these things prior to arriving at a national conference spearheaded by artists looking into these very concepts. Once we arrived at the gallery that was hosting the panel, I was taking everything in: the sights, sounds, smells, everything and anything that my mind could process. The talk was lead by Tracie D. Hall, the founding curator of Rootwork Gallery, and the panel was also made up of three other gallery owners and one artist from the Pilsen neighborhood. Tracie made sure that we were all comfortable; that we felt able to express ourselves freely and could understand one another by making sure everyone around the room said their name. There were a good sixty-plus people in the room, and doing that exercise made it an even more comfortable environment. This was really special for me.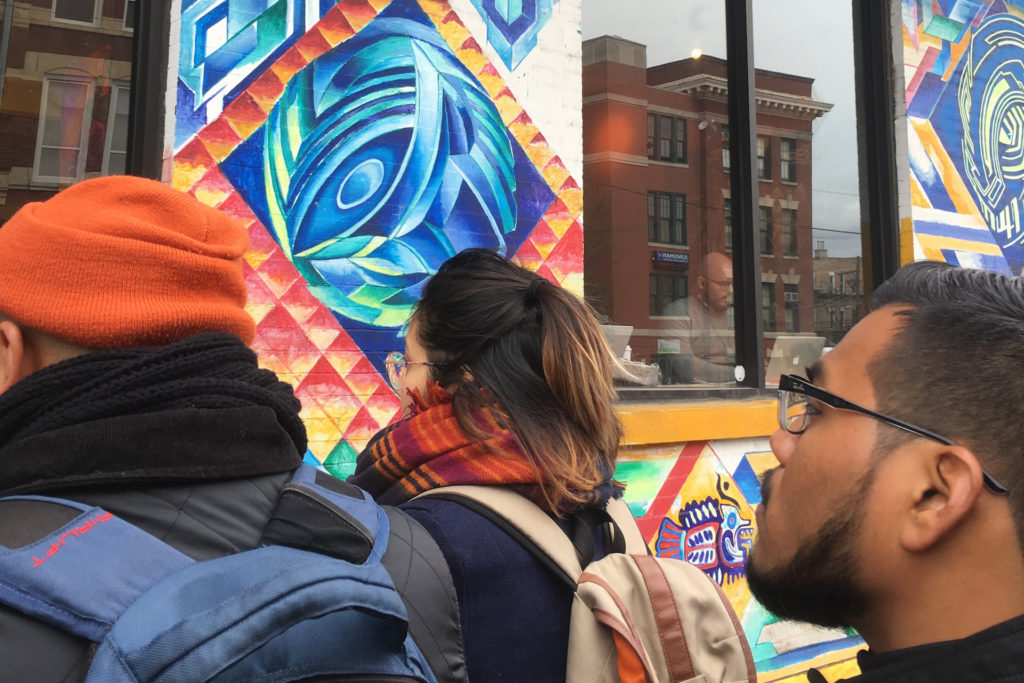 We had a long conversation about place-making and what it meant to the Pilsen neighborhood with new spaces coming about and old ones being boarded up. Pilsen was no stranger to gentrification, and I was really interested in hearing the ways that these spaces were dealing with the topic. The biggest problem that the neighborhood is facing with gentrification is maintaining the spaces that have always been part of the neighborhood. One space that was talked about and that we subsequently visited on the walking tours was Casa Aztlan. Casa Aztlan was a community center established in the 1970s for the Mexican community of Pilsen, focusing upon education and cultural identity. After 30 plus years of service Casa closed its doors and now stands as an empty building owned by the city. In the wake of this hit to the community, spaces like Pilsen Outpost and AMFM Gallery have risen to the challenge, incorporating the work that Casa was doing with community members through the arts, for instance by providing spaces and platforms for community members to express themselves. I was in awe when walking around the neighborhood because I felt like I was home, but I wasn't…because of all of the low brick buildings that I kept seeing. It was magnificent to be able to walk and talk with people who were from the neighborhood and gain true insight as an outsider coming in. I left the Pilsen neighborhood full of knowledge, understanding, and love.
The day of our presentation was full of non-stop movement and prep. I was nervous but also very excited to be giving my very first presentation at a national conference. At the start of the day, we headed to the Bridgeport neighborhood to do a radio interview with the Bad At Sports radio show, as stated on their website, "Contemporary Art Talk without the ego." I was hyped, particularly because I was able to revive my radio voice from my five years as a co-host of a college radio show at my alma mater, Cal State Monterey Bay. I didn't know what to expect before getting interviewed from the hosts of Bad At Sports. All we knew was that we were invited to talk about the Urban Futures Lab fellowship and ourselves and how amazing a program it is. In fact, the radio hosts were hilarious and asked really insightful questions about the program but also about us as people, which, in my opinion, made for great radio and a great first radio interview for the Fellows. The broadcasting staff were very charismatic and had a great sense of humor which made me feel comfortable. It felt like a laid back conversation, which was something I could get behind.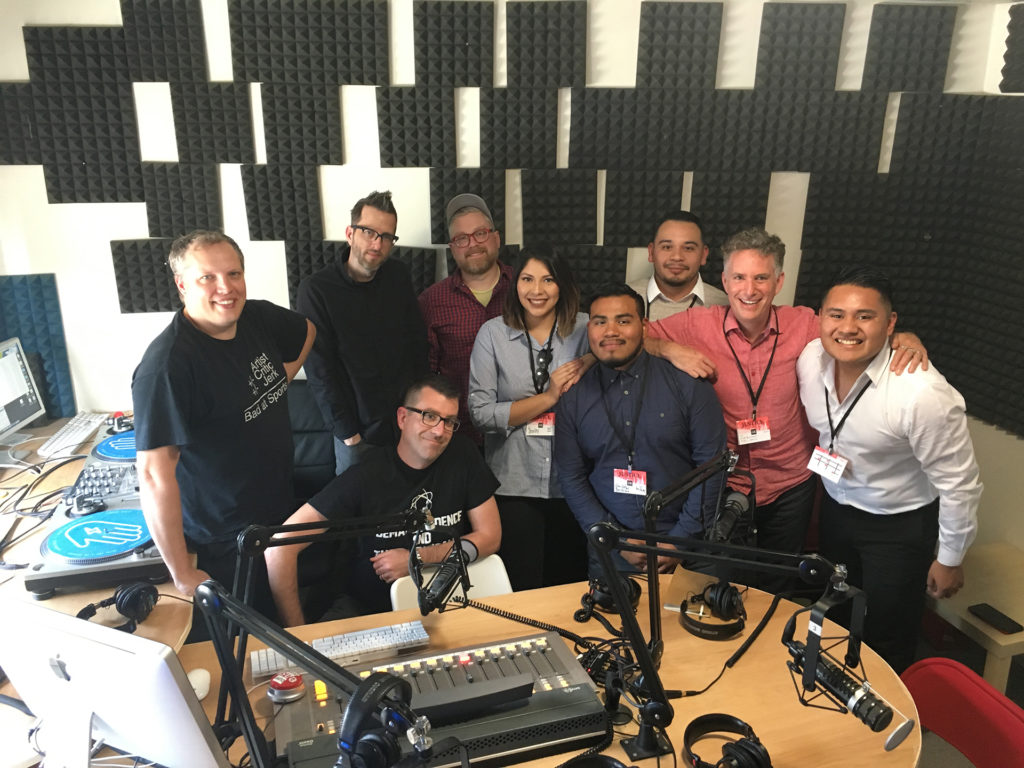 After our radio debut, we headed back to the university to set up for our talk, titled Urban Futures Lab: A Model for Creative Civic Leadership. The time had arrived for our big panel conversation about the fellowship and the work that we do with communities in Los Angeles. We as a cohort were nervous but also excited about being in a new state and on a different side of the country to present ourselves and the lessons we can pass on to others. The students were now the teachers. Once we got started, I was very nervous, but I tried to make sure that I was able to speak clearly and could articulate the notes that I had written down the night before as a guide to the ideas that I wanted to explain. In the beginning, I stayed seated with the microphone in front of me, talking about the projects I'm involved in. As time went on, I began to move up front and carried the mic in my hand to talk to the lecture hall. This made it more of a direct talk than if I'd sat behind the table that was set up for us. I felt like once we moved out from the table the energy of the room lifted. I also got more comfortable with speaking as we moved along with the presentation, and, as we reached the end of it all, I was comfortable enough to conduct the Q & A section of our panel. Overall, we got a very warm response to the concepts we were sharing, about what it means to have these types of leadership programs for young adults of color, and the positive ways that they can be implemented for future arts leaders.
Overall, attending Open Engagement 2017 and being in the city of Chicago has expanded my mind and passions, making me believe in a reality where I'm able to live out my dreams of living a life involved in the arts, and the change that can come from working in communities while using art as a tool. This was an experience that I will cherish forever.
Blog Post #4 // Learn more about Urban Futures Lab.