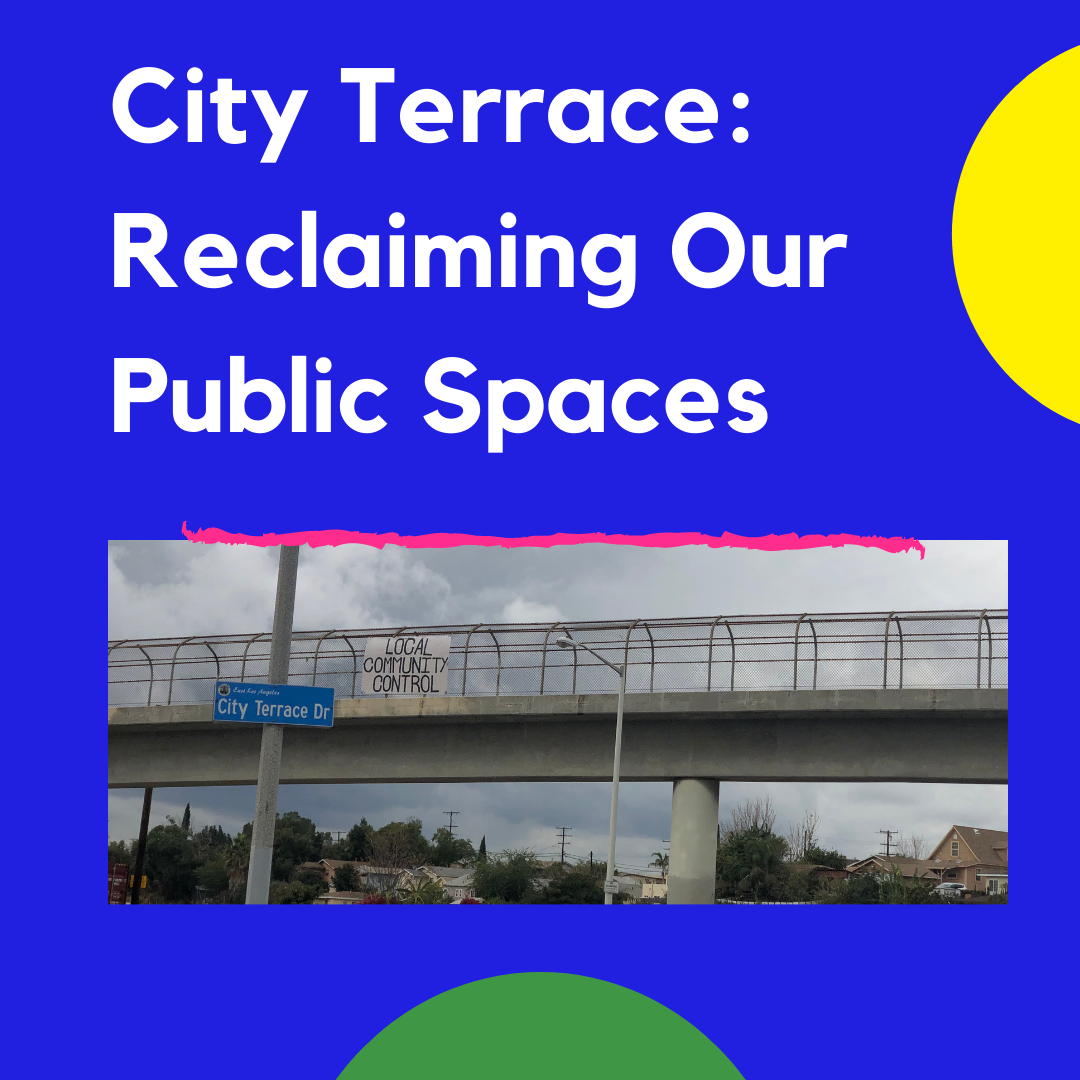 29 Mar

Brisa Aviles – City Terrace: Reclaiming Our Public Spaces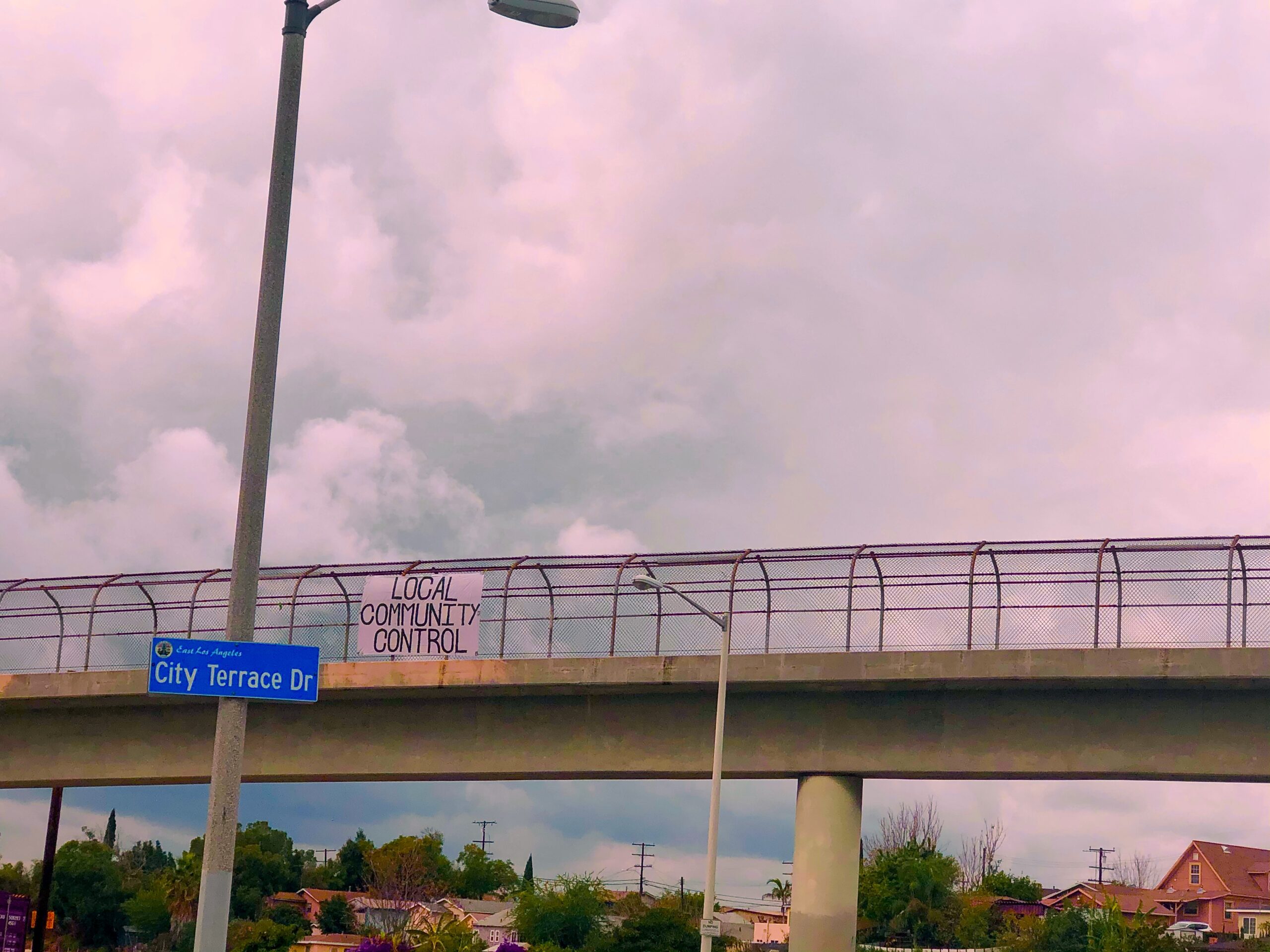 An overpass bridge on City Terrace Dr. with a large banner reading "Local Community Control" Photo by Brisa Aviles 
While thinking about what could be the theme for my capstone project, I knew it had to involve my neighborhood of City Terrace. Is is a place I've lived at for a little over a year, but somehow felt very familiar, as if I'd known the place for my entire lifetime. The geography of the place, the friendliness of the people, and the atmosphere reminded me so much of my childhood home growing up in Tijuana, Baja California. Even my own family comments on how much the neighborhood reminds them of "Tijuas." Although the space felt familiar, I knew it had its own personality and uniqueness and I was curious to explore.
Using public spaces in the City Terrace neighborhood, I created a presentation deck designed to teach students + residents the impact people have on ordinary public spaces. The deck explores: El Puente De la Gente, an overpass bridge turned into art exhibit/community space; an alley coined "Callejon Herron," because of a local artists murals in the alley; and Rainbow Alley, a now chained up lot that was once a walkway filled with a community mural. These three spaces share one thing in common, they've been transformed by residents to embody the resiliency and personality of the East LA neighborhood.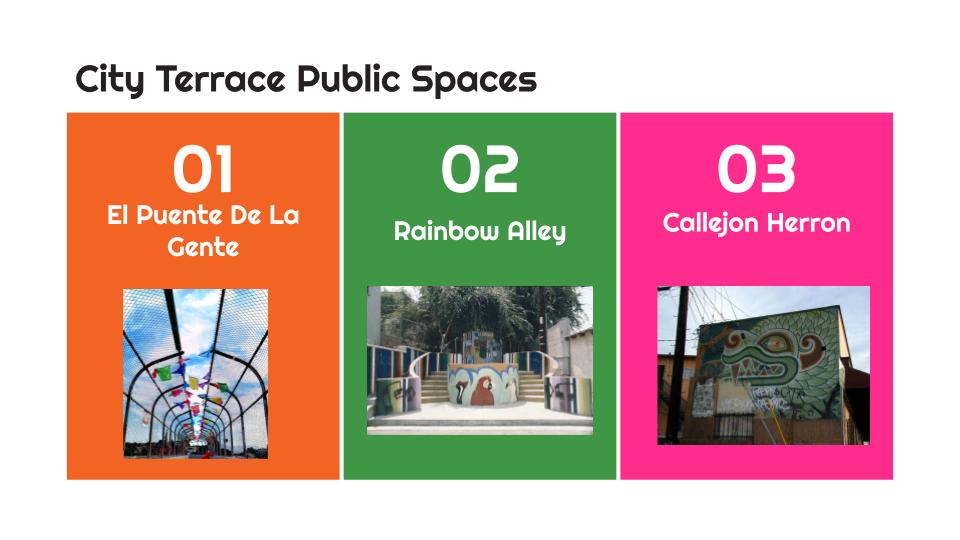 A slide from the City Terrace: Reclaiming Our Public Spaces presentation deck. 
The deck was presented to students at the Rosewood STEM Magnet, a school with an urban planning and urban design curriculum. Second grade students learned about the importance of public spaces in their neighborhoods and what elements make up a good public space. Future plans for the project include presenting it to local high school students learning about urban planning and potentially sharing with local libraries.
Completing the capstone project allowed me to learn more about my neighborhood and the many extraordinary spaces it has to offer, which, to the blind eye, one would maybe ignore. Using an urban planning perspective and my interest in local community-led art, I was able to meet new residents, learn the history of the place I occupy, and reimagine what the future of public spaces could look like.