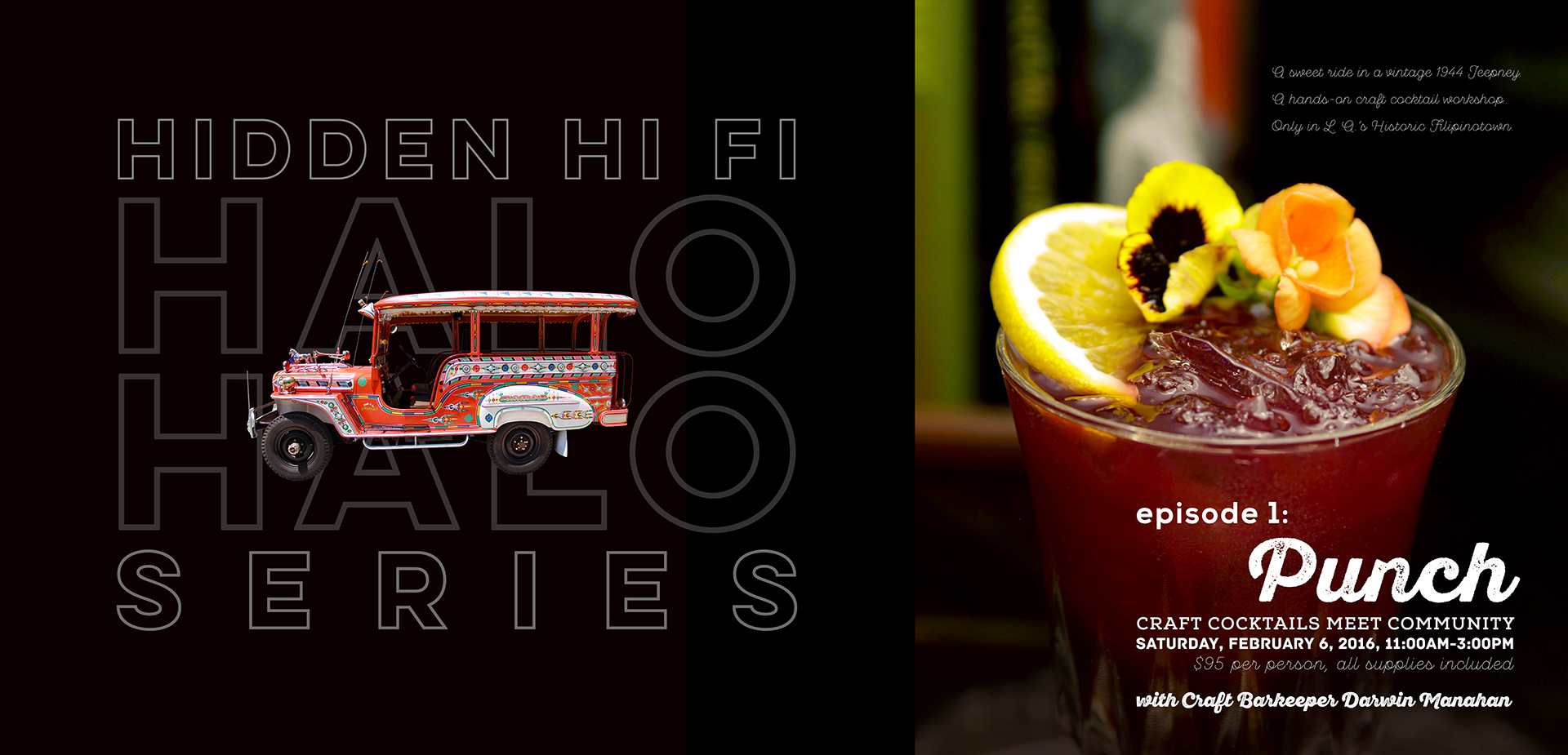 22 Jan

It's The Hidden Hi Fi Halo-Halo Series!

Mix it up in 2016 with The Hidden Hi Fi Halo-Halo Series, an immersive experience of Los Angeles' Historic Filipinotown (Hi Fi) that brings to life the neighborhood's vibrant identity through food, history, and culture by pairing a sweet ride in a vintage Jeepney with a hands-on workshop led by one of LA's most inventive Filipino American craft barkeepers and chefs. Sure to delight aficionados of adult beverages, Angeleno culture, urban adventures. Filipino- and Filipino-American-curious welcome.

Episode 1. PUNCH: Craft Cocktails Meet Community

Saturday // February 6, 2016 // 11:00am-3:00pm

Pilipino Workers Center (PWC) // 153 Glendale Blvd., Los Angeles, CA 90026

$95 per person // supplies + snacks provided // Limited to 16 people (21 + over please)

Your Craft Barkeeper: DARWIN MANAHAN // General Manager + Beverage Director @ Cliff's Edge, Silver Lake and Osso, DTLA

The expedition starts with an unforgettable ride across Hi Fi in a 1944 Sarao Motor Company Jeepney. Mint. Condition. A flaming orange wonder on wheels. From the Pilipino Workers' Center, you'll take in the local landscape –the sights, sounds, people and places that give the neighborhood its personality.  You'll uncover hidden stories, discover curiosities in plain sight and come to appreciate what's Filipino (and what's not) about Historic Filipinotown. By the time you return to Pilipino Workers Center, you'll be primed to absorb some locally inspired craft mixology.

You can't get more local than Darwin Manahan. Before he was one of Zagat's 2015 30 Under 30, years before the profiles on Vice Munchies and LA Magazine, this LA native used to frequently visit Hi Fi as a kid. For this workshop, he revisits his Hi Fi roots and reimagines an old school genre (punch, the adult version with alcohol), imbuing it with the contemporary spirit and flavors of Hi Fi. This custom concoction you will learn to make (and of course taste). You will apply your newly acquired knowledge at your next party and wow your friends. Guaranteed. In the process, you will understand how punch epitomizes community and why it is a most appropriate beverage for a neighborhood like Hi Fi.