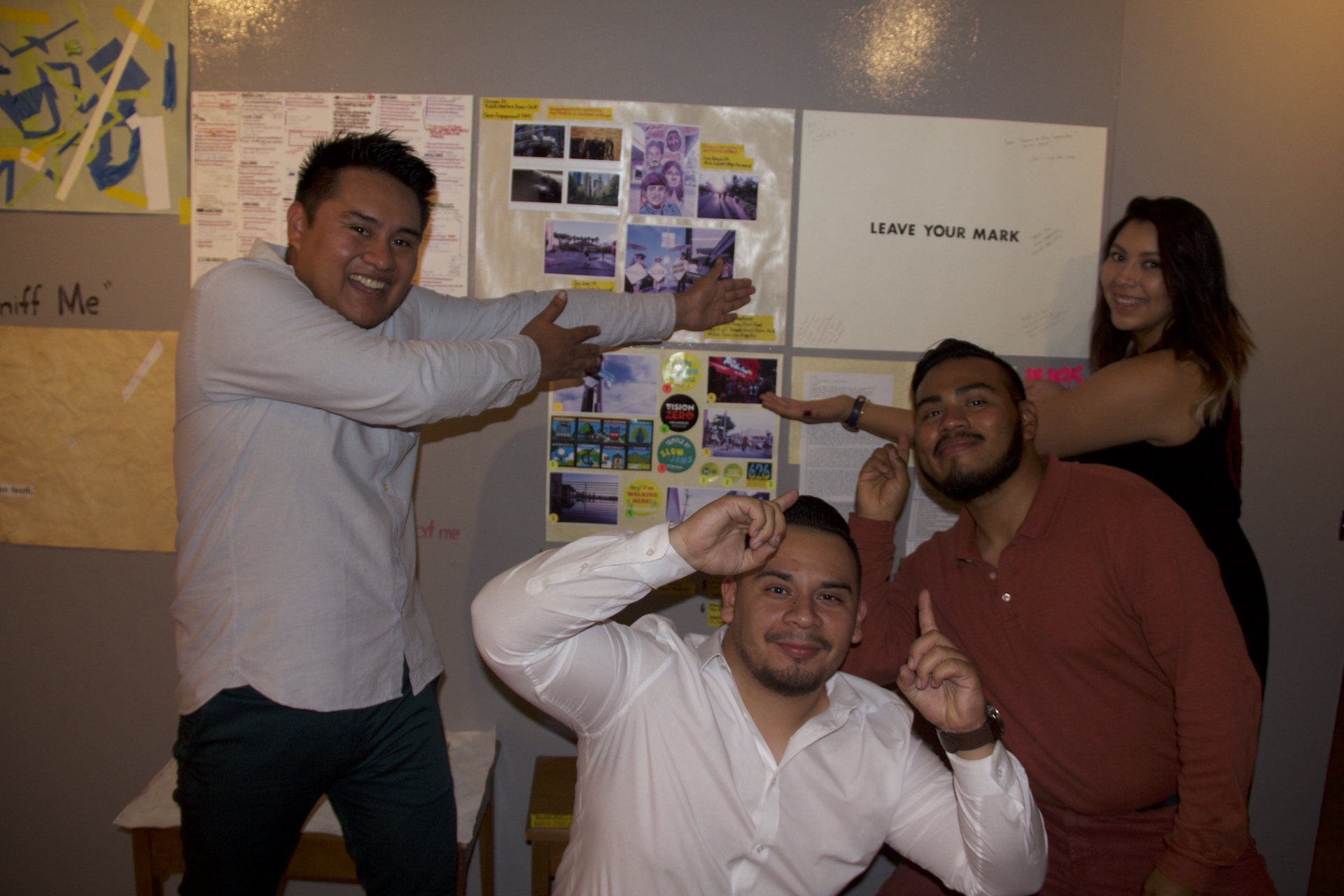 15 Oct

URBAN FUTURES LAB MODULE 6 OVERVIEW

ASPIRATIONS: From Purpose to Action

///

Urban Futures Lab Module 6 began in September 2017 – the mid-point of the two-year arc of the fellowship. As an inflection point, the Module asked the Fellows to reflect on their first year, reconsider their professional interests and goals, and identify actionable items for their second year. Rather than confining this work to a single medium, Fellows were asked to use a variety of techniques to communicate with each other, the Public Matters team, and a broader audience.

The Module culminated in a Happy Hour event hosted by the Fellows. Guests included individuals who had interacted with the Fellows at points throughout the 2016-2017 year, including attendees of prior Urban Futures Lab Supper Clubs. Each Fellow led a "gallery walk" of his/her work, fielded questions about their presentations, and used the informal conversation time to ask guests for specific support in achieving their Year Two goals.

In Module 6, each Fellow:
Created a "Book of You" by transforming an 18"x24" artist sketchbook into a visual representation of the Fellow's work in Year One and objectives for Year Two. The book included visual representations of each of the following:

A 6-word story, to capture her/his evolution during Year One.
A personal change agent statement, akin to an "artist statement" describing the effect the Fellow wants to have on and in the world.
An aspirational job description; the listing included a summary of the position, the fields/sectors it falls within, the organizations and people the Fellows would need to engage with in the position, and the skills the Fellow has, or would need to acquire, to have this job.
A constellation of the professional networks and relationships the Fellow wants to develop in Year Two.

Prepared and honed 10-minute "gallery talks" to present to Happy Hour Attendees.
Developed a monthly work plan, or road map, to achieve professional goals in Year Two.




Skills Development included:
Using visual media to present ideas to new audiences
Designing a compelling visual installation and/or presentation
Collaborating as a cohort to workshop ideas, visuals, and improve each "Book of You"
Writing in various forms: perfunctory job listings, pithy stories, and inspirational statements
Public speaking
Setting goals and designing strategies to achieve them
Outcomes
Fellows committed to being change agents in various arenas and committed publicly to working towards specific professional goals. They identified actions that would support their professional development and connected with Happy Hour guests to request specific guidance and support. They learned how to ask others to support their development.
A tangible outcome of the module was the creation of four unique road maps for professional development. Each Fellow crafted this course of action in order to build his or her extended network. This map is both a guide and an evaluation tool that charts their progress and areas of growth.
With these road maps in hand, during weekly updates Fellows now report on their progress in connecting with new individuals and in developing the skills they need to get – or create – that aspirational job. A goal of Urban Futures Lab is to support Fellows as they develop their professional networks. With the tools of Module 6, Fellows are actively identifying and requesting connections and training, and are seeking out increased responsibility in Public Matters projects in Year Two.